News story
Change of Governor of Anguilla
Ms Christina Scott has been appointed Governor of Anguilla.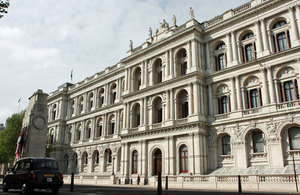 She will succeed Mr William Alistair Harrison CMG CVO, who will be transferring to another Diplomatic Service appointment. Ms Scott will take up her appointment during summer 2013.
Ms Scott has had a wide ranging civil service career working across a range of domestic and international policies. Currently Director of the Civil Contingencies Secretariat in the Cabinet Office, she previously spent three years as Private Secretary to the Prime Minister. She has also worked at HM Treasury, in the Department for Transport and at the European Commission. Ms Scott will transfer from the Cabinet Office to the FCO for this appointment.
On her appointment as Governor of Anguilla, Ms Scott said: "It is a great honour to be appointed as Governor. I very much look forward to working with the people of Anguilla and their elected representatives as they build a vibrant, successful and resilient future".
Curriculum vitae
Full name:
Christina Martha Elena Scott
2009 - Present
Director, Civil Contingencies Secretariat, Cabinet Office
2006 - 2009
Private Secretary to the Prime Minister, Number 10
2005 - 2006
Principal Private Secretary to the Secretary of State, Department for Transport
2004 - 2005
Deputy Director, West Midlands and South West, Department for Transport
2003 - 2004
Assistant Director, Corporate and Private Finance Team, HM Treasury
2001 - 2003
Assistant Director, European Secretariat, Cabinet Office
2000 - 2001
Head, EU Enlargement Team, Department for Transport
1999 - 2000
Office of the Director General, DG Environment, European Commission
1996 - 1999
Various graduate development posts.
Published 23 October 2012