Change of British High Commissioner to Uganda
Ms Alison Blackburne has been appointed British High Commissioner to the Republic of Uganda.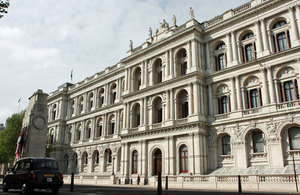 She will succeed Mr Martin Shearman who will be transferring to another Diplomatic Service appointment. Ms Blackburne will take up her appointment during August 2012.
Ms Blackburne joined the FCO in 1987 and has held a variety posts in London and abroad. She has previously served overseas in Warsaw, Stockholm, New York (UK Permanent Mission to the UN), Harare and Brussels (UK Permanent Representation to the EU), as well as more recent short-term attachments in Jakarta and Washington. She also spent two years on loan to the Ministry of Justice as Principal Private Secretary to the Justice Secretary.
On her appointment as British High Commissioner to the Republic of Uganda, Ms Blackburne said
"I am honoured and delighted to have been appointed High Commissioner to Uganda. I look forward to having the opportunity to lead the UK's engagement with Uganda across the wide range of issues where we have shared interests, and to develop further the strong bilateral relationship."
Full name:
Alison Blackburne
August 2011-Present
Washington, Her Majesty's Consul General and Counsellor Corporate Services (Temporary Duty)
January-July 2011
Jakarta, Deputy Head of Mission (Temporary Duty)
2008-2010 Ministry of Justice, Principal Private Secretary to the Lord Chancellor and Secretary of State for Justice
2006-2008
UKRep Brussels, Political Counsellor
2003-2006
Harare, Deputy Head of Mission
2000-2003
Stockholm, First Secretary Head of Political/Economic Section
1996-2000
UKMis New York, First Secretary Head of Political/Economic Section
1995-1996 FCO, Head of Russia, Ukraine and Moldova Section, Eastern Department
1994-1995
FCO, Head of Russia External/CIS Section, Eastern Department
1992-1994
FCO, Desk Officer for Common Foreign and Secretary Policy (CFSP) Implementation, CFSP Unit
1989-1992
Warsaw, Third (then Second) Secretary Chancery
1987-1989 FCO, Assistant Desk Officer, Ethiopia, Somalia, Djibouti, East Africa Department
1987 Joined FCO
Published 26 January 2012