Change of British High Commissioner to the Republic of Zambia
Mr James Thornton has been appointed British High Commissioner to the Republic of Zambia in succession to Mr Thomas Carter and Ms Carolyn Davidson, who will be transferring to other Diplomatic Service appointments.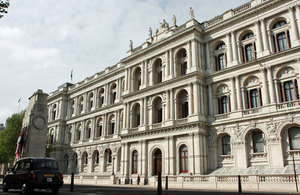 Mr Thornton will take up his appointment in January 2012.
James Thornton joined the FCO in 1989 and has held a wide range of positions in London and overseas. Previous Africa experience includes being Deputy Ambassador in Cote d'Ivoire and as Deputy Head of the joint FCO/DFID Sudan Unit in London. His most recent posting was as the UK's Deputy Permanent Representative to the OECD in Paris.
On his appointment, James Thornton said: "I am delighted to have been appointed to represent the United Kingdom in Zambia. As the Foreign Secretary has said, through the transfer of power as a result of the elections in Zambia, the country has shown Africa and the world the power of democracy.
"I will be working further to deepen the excellent relations that already exist between our two countries."
Curriculum vitae
Full name: James Sebastian Thornton
Married to:
Anne Thornton
Children:
Two children
2007 - 2011
UK Delegation to the OECD, Deputy Head of Mission
2005 - 2007
FCO/DfID Sudan Unit, Deputy Head
2003 - 2004
Abidjan, Deputy Head of Mission
2000 - 2003
Mexico City, Head of Political Section
1997 - 1999
FCO, Head of War Crimes Section, United Nations Department
1995 - 1996
FCO, Permanent Under-Secretary's Department
1994 - 1995
FCO, North Africa Desk Officer, Near East and North Africa Department
1992 - 1994
Algiers, Second Secretary Political/Economic/Commercial
1991
UK Mission to the UN in New York, UNGA Second Committee desk officer
1990 - 1991 FCO, Non-Nuclear Energy Desk Officer, Environment, Science and Energy Department
1989
Joined FCO
Published 14 October 2011