News story
Change of British High Commissioner to the Republic of Ghana
Mr Peter Jones has been appointed British High Commissioner to the Republic of Ghana and Non-Resident Ambassador to the Togolese Republic.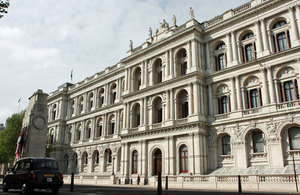 He will succeed Mr Nick Westcott CMG who will be transferring to another diplomatic appointment. Mr Jones will take up his appointment during May 2011.
Mr Jones joined the Foreign Office in 1985 and is currently Director of Migration. This role has involved working closely with a range of countries around the world, including in West Africa.
His previous Foreign Office positions have included policy and corporate roles in London and three overseas postings, most recently as Counsellor at the British Embassy in Rome.
On his appointment as British High Commissioner to the Republic of Ghana and Non-Resident Ambassador to the Togolese Republic, Mr Jones said:
"I am honoured and delighted to be appointed to these positions. I look forward to working closely with the Governments of Ghana and the Togolese Republic to take forward our mutual agenda, to getting to know the countries and their peoples first hand, and to working for British interests in the region. I feel privileged to have this opportunity."
###
Curriculum vitae
Full name:
Peter Edward Jones
Married to:
Sumita Biswas
Children: None
Feb 2009- present
FCO, Director Migration
2007-2009 FCO, Deputy Director Migration
2002-2007 Rome, Counsellor, EU/Economic/Trade
2002 FCO, Full time Italian language training
2001 FCO, Afghanistan Emergency Unit
1998-2001 FCO, Assistant Director, Personnel
1994-1998 Bonn, First Secretary, Politico-Military
1992-1994 FCO, Security Policy and Eastern Adriatic Departments
1989-1992 UKDEL Vienna, Second later First Secretary
1987-1988 Full-time language training
1985-1987 FCO, South American and Southern European Departments
1985 Joined FCO
Published 13 January 2011