Change of British High Commissioner to Sierra Leone
Mr Peter West has been appointed British High Commissioner to the Republic of Sierra Leone.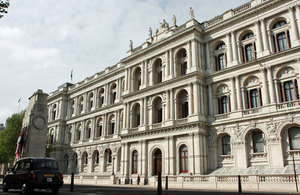 He will succeed Mr Ian Hughes, who will be transferring to another Diplomatic Service appointment. Mr West will take up his appointment during February 2013.
Mr West's first posting was to Argentina in 1980. He has since worked in a range of countries including New Zealand, Denmark, Thailand, Australia and most recently Nigeria.
On his appointment as British High Commissioner to the Republic of Sierra Leone, Mr West has said "It is a great privilege to have the opportunity to work in Sierra Leone at this exciting and important time. The UK and Sierra Leone are the closest of friends. I look forward to building on the wide and strong range of bilateral ties, developing further our shared political, economic and security interests."
Curriculum vitae
Full name: Peter West
Married to:
Julia West
Children:
One daughter and twin sons
Oct 2011 - present
Lagos, Deputy High Commissioner
Sept 2008 - Oct 2011 Abuja, Deputy High Commissioner
July 2004 - July 2008 Melbourne, Consul General
2000 - 2004
Bangkok, Deputy Head of Mission
1997 - 1999
FCO, Deputy Head, South Asian Department
1992 - 1997
Copenhagen, First Secretary (Political/EU)
1991 - 1992
FCO, Head of Section, Latin America Department
1989 - 1991
FCO, Desk Officer, Security Coordination Department
1986 - 1988
FCO, Desk Officer, Southern African Department
1984 - 1986
Auckland, Vice Consul (Commercial)
1980 - 1983
Buenos Aires, Third Secretary/Vice Consul
1977
Entered Foreign and Commonwealth Office
Published 9 November 2012