Change of British High Commissioner to India
Mr James Bevan CMG has been appointed British High Commissioner to India. He will succeed Sir Richard Stagg KCMG.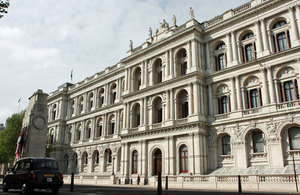 Mr Bevan will take up his appointment in November 2011.
Mr Bevan studied Social Anthropology at Sussex University and joined the Foreign Office in 1982. He has served in a number of bilateral and multilateral missions overseas and has worked on a wide range of political, security, economic, development and other issues. In his previous job as the FCO's Chief Operating Officer he led the FCO's modernisation programme and supervised its global operations, migration and consular work. He is married to Janet Purdie, an English teacher. They have three daughters.
On his appointment as British High Commissioner to India, Mr Bevan said:
"I am honoured and delighted to have been appointed Her Majesty's High Commissioner to India. The UK and India have a strong and deep relationship, many shared interests, and close ties between our peoples. Our two countries are committed to building an enhanced and forward-looking partnership for the 21st Century. I look forward to playing my part in that."
CURRICULUM VITAE
Full name:
James David Bevan
2007-2011
FCO, Chief Operating Officer and Director General for Corporate Affairs
2006-2007
Harvard University, Visiting Fellow, Centre for International Affairs
2003-2006
FCO, Director for Africa
2002-2003
FCO, Director for the Balkans
2000-2001
FCO, Head of European Union Department
1998-2000
FCO, Head of Africa Department (Equatorial)
1994-1998
Washington, First Secretary
1992-1993
Paris, First Secretary
1991-1992
FCO, European Union Department (External)
1986-1990 Brussels (UK Delegation to NATO), First Secretary
1984-1986
Kinshasa, Second Secretary
1983-1984
FCO, Near East and North Africa Department
1982-1983
FCO, Western European Department
1982
Joined FCO
Published 9 May 2011