Change of British High Commissioner to Botswana
Mr Nicholas John Pyle OBE, MBE has been appointed British High Commissioner to the Republic of Botswana.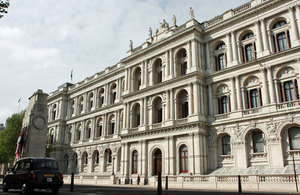 He will succeed Ms Jennifer Anderson who will be transferring to another Diplomatic Service appointment. Mr Pyle will take up his appointment during January/February 2013. Mr Pyle will also be UK Representative to the Southern African Development Community.
Mr Pyle joined the FCO in 1981 and has spent the last eight years working on Africa. He is currently the Deputy Head of Africa Department - Central and Southern.
Mr Pyle's last overseas posting was in Nairobi where he spent five years, the last of which was on secondment to the United Nations Political Office for Somalia, working on a broad range of security, conflict, governance and development issues in Somalia.
Earlier postings were in Bridgetown and Colombo where he focussed on political and consular work. Mr Pyle was awarded the MBE in 1999 and the OBE in 2009.
On his appointment Mr Pyle has said "It's a great honour to be appointed High Commissioner to the Republic of Botswana. I am looking forward to further strengthening the excellent bilateral relationship that is long-standing, broad and deep.
I am also looking forward to working on a range of shared priorities in the region. On a personal note, my wife and I are very much looking forward to returning to live in Africa and to learning about Botswana, its people and culture."
Curriculum vitae
Full name:
Nicholas John Pyle OBE, MBE
Married to:
Ros Day MBE
Children:
Two Sons, One Daughter
May 2012 - present
FCO, Deputy Head, Africa Department Central & Southern
Apr 2010 - Mar 2012
FCO, Deputy Head, East Africa & Great Lakes Department
Feb 2010 - Mar 2010 FCO, Strategy Unit
Oct 2008 - Dec 2009
Special Advisor to the UN Secretary General's Special Representative to Somalia (SRSG)
Feb 2005 - Sept 2008 Nairobi, Counsellor Somalia
Sept 2003 - Dec 2004
Bridgetown, Deputy Head of Mission
Jan 2000 - Aug 2003
Bridgetown, Second Secretary Political
June 1996 - Nov 1999
Colombo, Consul/Entry Clearance Manager
March 1981 - May 1996
Various positions, including postings to Geneva, Kabul and Jeddah
March 1981
Joined FCO
Published 10 October 2012