World news story
Change of British High Commissioner
The British High Commissioner to Pakistan His Excellency Mr Philip Barton, CMG, OBE left Islamabad at the end of his assignment on the 11 February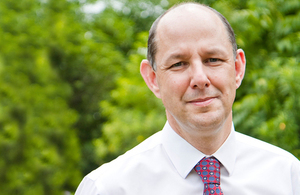 His replacement, Mr Thomas Drew CMG, will start work as British High Commissioner-Designate in Pakistan on 22 February.
On his departure, High Commissioner Philip Barton said:
I leave Pakistan with great sadness, but with a sense of optimism about the relationship between the UK and Pakistan and the future of the country itself. I am very grateful for all the hospitality, kindness and support I have received from the people of Pakistan.
I wish my successor all the best for his tenure. He is coming to one of the best jobs in the British Diplomatic Service.
Before the arrival of Thomas Drew CMG, Deputy High Commissioner to Pakistan, Patrick Moody, will assume the role of Chargé d'affaires.
For more details, contact the Press Attaché at +92 51 2012000
Notes for Editors
Details of Thomas Drew, the High Commissioner Designate, and his appointment can be found here. He can be followed at @TomDrewUK
Published 11 February 2016