World news story
Change of British Deputy High Commissioner to Karachi
Belinda Lewis is the new British Deputy High Commissioner to Karachi and Director UK Trade and Investment for Pakistan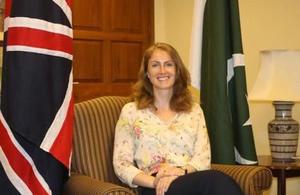 Ms. Belinda Lewis has been appointed as the British Deputy High Commissioner to Karachi and Director Trade and Investment for Pakistan in succession to Mr. John Tucknott MBE. Ms. Lewis previously served as Deputy Ambassador at the British Embassy in Baghdad, Iraq.
Ms. Lewis joined the FCO in 2013 as Head of Mission in Helmand Province, Afghanistan. She was a member of the Home Civil Service for ten years before joining the FCO, serving in the Department for Culture, Media and Sport, the Ministry of Justice and the Home Office. Prior to joining the Civil Service, Ms. Lewis worked for an international bank in the UK and Italy.
Speaking upon her arrival in Karachi, Ms. Lewis said:
I am delighted to have been appointed as the British Deputy High Commissioner to Karachi. The relationship between the UK and Pakistan remains deep and strong. I am committed to strengthening these connections during my time here, building on the excellent work of my predecessor John Tucknott.

I have also heard exciting stories about the beauty of Karachi. I am immensely looking forward to exploring Karachi and the rest of Pakistan and to working with all sections of Pakistani society as we continue to build a relationship based on partnership, trust and shared understanding.
British High Commissioner Thomas Drew, CMG welcomed Ms Lewis to Pakistan saying:
I am delighted to welcome Belinda Lewis to Pakistan. Her experience both inside and out of Government demonstrates how well suited she is to overseeing British interests in Karachi and, as Director of Trade and Investment for Pakistan, ensuring the trade links between our two countries achieve their considerable potential.

The UK has a strong history of commercial links with Pakistan. Strengthening them further is one of my top priorities: they are good for the UK and good for Pakistan. I look forward to working with Belinda to do so.
Contact
Press Department
British Deputy High Commission
Karachi
Tel. 021-3-5827000

Note to Editors
For the new Deputy High Commissioner's detailed bio, please click here
Follow the British Deputy High Commissioner on Twitter @Belinda_Lewis1
A video message from British Deputy High Commissioner can be seen on UK in Pakistan Facebook page
Published 28 June 2016