Change of Ambassador to the Republic of Indonesia
Mr Mark Canning CMG, has been appointed Her Majesty's Ambassador to the Republic of Indonesia.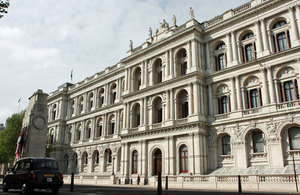 He will succeed Mr Martin Hatfull who will be transferring to another Diplomatic Service appointment. Mr Canning will take up his appointment during August 2011.
Mr Canning is a career member of HM Diplomatic Service. He was educated at Downside School and London University, and holds a Master Degree in Business Administration. He joined the FCO in 1974. His career in recent years has tended to focus on the Asia Pacific region.
On his appointment as Ambassador to Indonesia, Mr Canning said:
"I am delighted to be returning to a country for which I have not only deep affection, but admiration for all it has achieved. The relationship between Britain and Indonesia continues to broaden and grow, and I look forward to doing all I can to help develop it further. It will be exciting to be back in a region which is important to us in so many ways".
Curriculum vitae
Full name:
Mark Canning CMG
Married to:
Cecilia Canning
Children:
One daughter
Present
Harare, Her Majesty's Ambassador
2006-2009
Rangoon, Her Majesty's Ambassador
2001-2005
Kuala Lumpur, Deputy High Commissioner
1997-2001
FCO, Personnel Management Department
1993-1997
Jakarta, Head, Commercial Section
1988-1993
FCO, Security Coordination and West Africa Departments
1986-1988
Chicago, Vice Consul Commercial
Published 30 March 2011