Press release
Change in cost of registering organic seeds
The cost of registering an organic seed or seed potato variety in the UK will increase from today (1 October 2010).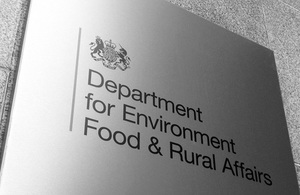 The increase, from £150 to £182 for each seed variety registered on the Soil Association database, is the first since 2004 and follows consultation with the industry. The change brings the cost of registration in line with the increase in the Retail Price Index since 2004.
The fee increase follows changes to the EU Organic Products Regulations 2009. The amendment will also allow imports of organic produce to have their Certificate of Inspection verified at any point once they are already in the UK; previously they would have had to remain at their point of entry until the Certificate of Inspection had been verified.
Information about the Organic Product (Amendment) Regulations is available at www.legislation.gov.uk/uksi/2010/1902/introduction/made.
Notes
The Organic Products (Amendment) Regulations 2010 (SI 2010/1902) amend the Organic Products Regulations 2009 which cover the administration and enforcement of EC regulation (EC) 834/2007 on organic production and the labelling of organic products.
Published 1 October 2010