World news story
Chandigarh IT CEO delegation visits UK
A delegation of 12 CEOs and Managing Directors of IT companies from the tri-city recently returned from a scoping visit to the UK.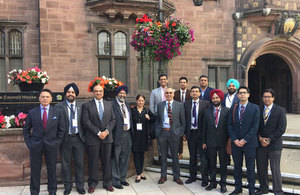 The British Deputy High Commission Chandigarh organised the mission in an effort to provide the first generation entrepreneurs, with an insight into the UK's software and IT sector and current opportunities.
The delegation visited universities, tech cities, city councils and IT companies across Manchester, Coventry, Nottingham and London in order to identify and pursue partnerships in emerging technologies like digital e-commerce and Internet of Things, conduct a preliminary research into the UK market, meet potential clients and network with key government and private sector officials.
Experts from the UK showcased successful innovation and incubation models with the aim of encouraging innovation collaboration and new investments from Indian start-ups.
David Lelliott, British Deputy High Commissioner Chandigarh, said:
Both India and the UK have dynamic and vibrant IT sectors, so collaborations like these are win-win. I've been impressed with the growth and changes I've seen in the Chandigarh IT sector in the last few years – particularly with respect to start ups – and the UK is keen to support that success story. With a strong domestic scene and numerous advantages as a hub for international business we are well placed to do so. And of course cities like Nottingham and Coventry have been working for a while to develop relationships with Chandigarh, alongside better known centres like London and Manchester.
The mission, led by Charanjiv Bachhar, Deputy Head of Mission at the British Deputy High Commission Chandigarh, also proved popular with the Chandigarh business people who participated.
Partap Aggarwal, Founder & Chairman, IDS Infotech, said:
Britain is a natural partner for India and ranks very high on innovation. Chandigarh is emerging as a new hot bed for the start-ups. UK's expertise in technology can support and complement the Digital India initiative. The mission has certainly opened several new channels of knowledge, work and investment transfer between our SMEs and UK's tier 2 business hubs.
Munish Jauhar, CEO Graycell Technologies Exports, said:
The IT mission to the UK organised by the British Deputy High Commission was a much needed step in the right direction towards increasing bilateral trade. The mission not only opened up new business opportunities via networking but also provided for a lot of insightful learning.
Sameer Jain, CEO Net Solutions Ltd, said:
IT CEO's mission provided a fantastic platform to explore business opportunities and forge partnerships in the UK. The access that members of the delegation got to the key decision makers in government, business and academia across the four cities was unprecedented. It was also a great opportunity for the members of the delegation to network amongst themselves and learn from each other.
For media queries, please contact:
Stuart Adam, Head,
Press and Communications
British High Commission, Chanakyapuri
New Delhi 110021
Tel: 44192100; Fax: 24192411

Mail to: Alam Bains
Follow us on Twitter, Facebook, Flickr, Storify, Eventbrite, Blogs, Foursquare, Youtube, Instagram, Vine, Snapchat @UKinIndia, Periscope @UKinIndia
Published 13 October 2015