News story
Chancellor visits leading UK exporter
East Anglian company welcomes government plan to boost UK exports.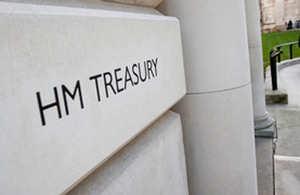 The Chancellor today visited Ransomes Jacobsen, a world leading producer of commercial lawnmowers, to discuss the government's recent Budget package to help exporters.
The company is based in Ipswich and employees over 300 people, including 9 apprentices. It produces a broad range of walk-behind and ride-on mowers for use in sports stadia, golf course and for local authorities to maintain green spaces.
Nearly two-thirds of the mowers produced at the Ipswich site are exported all over the world to customers in Europe and the US as well as key emerging markets like China, Brazil and India amongst others.
At the Budget, the Chancellor of the Exchequer, Rt Hon George Osborne MP, laid out an ambitious plan to help companies, like Ransomes Jacobsen, take advantage of the global recovery.
He announced changes that will give British businesses access to the most competitive export finance offer in Europe. The Budget package doubled UK Export Finance's firepower increasing the UK's direct lending programme to £3 billion and made key changes to the governance of the scheme to ensure that the typical interest rates on loans are cut by a third, to the lowest they can possibly be.
Chancellor of the Exchequer, Rt Hon George Osborne MP, said:
A key part of the government's long term economic plan is to ensure our businesses are able to export all over the world.

During my visit to Ipswich, local MP Ben Gummer wanted me to see the fantastic success story that is Ransomes Jacobsen.

I want other UK firms to have the same opportunities to get ahead in the global race which is why in my Budget last month I fundamentally reformed our export finance regime to make it the most competitive in Europe. This is how we will ensure that wherever you are around the world you cannot fail to see Made in Britain.
Gina Putnam, Director, Marketing and Communications - International, Ransomes Jacobsen, said:
We have been exporting our equipment since the mid-1800s, be it agricultural implements back then or commercial mowing equipment today. We are a net exporting business, with as much as 60% of our output being shipped to all four corners of the globe.

The Chancellor's recent Budget, which laid out a package of measures to assist exporters, is good news for UK plc. Ransomes Jacobsen is already exporting to a number of emerging markets and we welcome the support for UK firms, big and small, to take advantage of the global recovery.
Published 25 April 2014