News story
Chancellor puts policing first on visit to Nottingham
George Osborne visited Nottinghamshire Police Force to see how they are leading transformation through innovation and technology.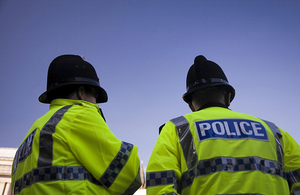 Following the landmark protection of police spending in the Spending Review, Chancellor George Osborne today (Friday 8 January 2016) visited Nottinghamshire Police Force to see first-hand how they are carrying out vital work to protect local communities.
At the 2015 Spending Review the Chancellor announced that the government would protect overall police spending in real terms, an increase of £900 million cash by 2020.
The government is providing additional transformation funding for forces that have strong proposals to support efficiency and reform, and to help transition to new funding arrangements in future. This funding will also help to enhance specialist capabilities for police forces, and allow forces to train more firearms officers to ensure the country can protect its citizens from terrorist threats.
Chancellor of the Exchequer, George Osborne said:
In light of the growing threats we face to our national security, I am clear that now is the time to back our police, giving them the tools they need to tackle crime and protect the British public. That's why I used the Spending Review last year to protect overall police spending in real terms.

It was great to visit Nottinghamshire Police Force to see first-hand how they are continuing to protect local families, and hear how they have already invested in innovation to make savings to ensure that as much money as possible is spent on directly fighting crime.
Nottinghamshire Police Force are one of the country's leading forces on transformation having invested in technology and worked with other forces to save money to ensure they can spend more time fighting crime.
Last year Nottinghamshire Police Force successfully secured funding from the Police Innovation Fund to introduce a wave of new body cameras on its officers, and to invest in technology to ensure that multiple forces from across the East Midlands can access shared data, including from mobile locations.
Recorded crime fell by 26% in Nottinghamshire from 2010 to 2015, compared to a 16% fall across England and Wales.
Published 8 January 2016