News story
Chancellor meets City leaders to discuss Britain's financial services industry
Chancellor of the Exchequer Philip Hammond says "we want the best deal for trade in UK goods and services, including our world leading financial services industry".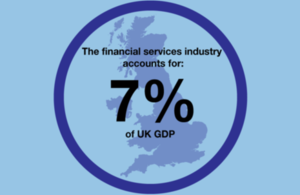 Today (7th September 2016) the Chancellor of the Exchequer, Philip Hammond, hosted a roundtable discussion on the issues affecting the financial services industry as the UK prepares for negotiations to leave the EU. The meeting, with members of the European Financial Services Chairmen's Advisory Committee, also covered the attendees' views on how the government can offer support to the industry in the lead up to the Autumn Statement.
Chancellor Philip Hammond said:
I understand the scale of the potential impact leaving the EU could have for parts of the financial services industry.

That is why I am determined to listen to what the industry has to say on key issues, like access to the single market.

We want the best deal for trade in UK goods and services, including our world leading financial services industry.

Financial services are one of Britain's great success stories – its exports account for over 12% of the UK total; it employs over 1 million people, two thirds of whom work outside of London and the South East; and contributes over £60 billion in tax each year to help fund public services.

It is important Britain maintains its status as a great place for financial services and that is why the government stands ready to help the sector maximise the opportunities that leaving the EU presents.
The European Financial Services Chairmen's Advisory Committee said:
We were very pleased that senior representatives of the financial services industry have been given this opportunity to exchange early views with the Chancellor, and appreciated the openness of the discussions.

Ensuring UK-based financial institutions have continued ability to support the needs of businesses and individuals and to add value to the economy as a global financial centre, is in all our mutual interests. We are committed to supporting government in delivering a successful outcome from the negotiations.
The Treasury is committed to ongoing engagement with business and in the coming months, the Chancellor will hold a series of bilateral and group discussions with domestic and international firms ahead of chairing a further roundtable with representatives from financial services firms in October.
This is part of the Chancellor's engagement with a variety of sectors including technology, clothing, food and manufacturing as well as meeting investors, importers and exporters and hosting representatives from the CBI, FSB and British Chambers of Commerce. The next roundtable will take place on 12 September when the Chancellor will meet with major importers and exporters.
The UK's financial services industry is one of the UK's most successful export industries, with total financial services exports having increased from 1.6% of GDP in 1991 to 3.5% of GDP in 2015. London is the world's leading financial centre and around half of the world's largest financial firms have their European headquarters in the UK.
Meeting attendees:
Philip Hammond, Chancellor of the Exchequer
Simon Kirby, Economic Secretary to the Treasury
Robin Walker, Minister for Department for Exiting the European Union
Shriti Vadera, Chairman, Santander UK
Robert Rooney, CEO, Morgan Stanley International
Xavier Rolet, CEO, London Stock Exchange Group
John Nelson, Chairman, Lloyd's of London
Sir Adrian Montague, Chairman, Aviva
John McFarlane, Chairman, Barclays
Douglas Flint, Chairman, HSBC
Elizabeth Corley, Vice-Chair, Allianz Global Investors
Other members of the European Financial Services Chairmen's Advisory Committee:
Mark Boleat, Chairman, Policy and Resources Committee, City of London Corporation
Lord Blackwell, Chairman, Lloyds Banking Group
Michael Cole-Fontayn, Chairman EMEA / Chairman, BNY Mellon / Association of Financial Markets in Europe
Sir Howard Davies, Chairman, RBS
Martin Gilbert, CEO, Aberdeen Asset Management
Sir Gerry Grimstone, Chairman, Standard Life
David Roberts, Chairman, Nationwide Building Society
Published 7 September 2016