News story
Chancellor in Mumbai to showcase London as the best place in the world for Indian investors to raise funding
The Chancellor, Philip Hammond, has travelled to Mumbai, India for the annual meeting of the Asian Infrastructure Investment Bank (AIIB).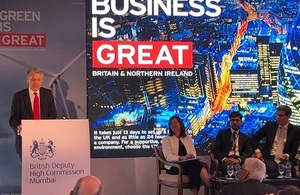 The Chancellor will sit down with senior Indian business leaders today (25 June 2018) and explain why he thinks London is the number one destination in the world for Indian business looking to raise money for the innovative ideas being developed, including in the thriving fintech start-up sector, in the country.
India is one of the world's fastest growing major economies, and the enduring close relationship between Britain and India continues to benefit both nations, creating more jobs in Britain and strengthening our economy.
The Chancellor of the Exchequer, Philip Hammond, said:
The UK and India have strong links and shared expertise in technology, infrastructure and financing and I'm delighted to be here in Mumbai to further develop the bonds between our countries.

I will be meeting some of India's innovative fintech start-ups and seeing how we can support the next generation of Indian and British fintech entrepreneurs, and promoting London as the best place in the world to raise capital for Indian investors.
The UK was the first G7 country to join the AIIB in 2015 and the Bank plays a leading role in delivering infrastructure across Asia. The Chancellor will praise the progress made by the Bank since the UK joined on developing new infrastructure projects across Asia.
The Chancellor will continue his tour of Asia by visiting China later in the week where he will meet the Chinese Finance Minister Liu Kin and business leaders.
Published 25 June 2018