News story
Chancellor in Berlin to discuss European Union reform
George Osborne laid out details of the new relationship Britain is seeking with the EU at his speech to the Federation of German Industries (BDI).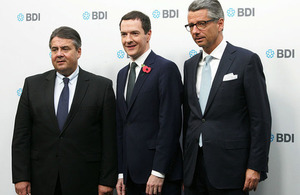 The Chancellor of the Exchequer, George Osborne, has put exempting Britain from the EU's founding principle of "ever closer union" and securing protections for countries outside the euro at the heart of the government's renegotiation strategy during a visit to Berlin.
The Chancellor held constructive talks in Berlin with German Finance Minister Wolfgang Schäuble and with Vice-Chancellor and Federal Minister of Economic Affairs and Energy Sigmar Gabriel about the aims of Britain's renegotiation and referendum on membership of the EU.
In a significant stepping up of the government's renegotiation strategy, the Chancellor used the talks to set out more details of the new relationship Britain is seeking with the EU.
He stressed the importance of reforming the EU to make it stronger and more competitive for the benefit of all member states. He detailed the areas the UK has identified for reform and the importance of ensuring that the European Union works for all twenty-eight member states, whether in the euro or not.
The Chancellor attended the Federation of German Industries' (BDI) annual conference and gave a speech to an audience of German business leaders, outlining the reforms to the EU that the government is seeking.
He also visited a Siemens factory while in Berlin, noting that it is a business that recognises the value of working across borders and whose presence in the UK brings benefits to our economy. Siemens has 168 years' experience of operating in the UK and runs 13 manufacturing sites here, employing more than almost 14,000 people.
Speaking at the BDI conference, George Osborne said:
Today, for the first time I am spelling out more of the detail of the changes we need to stay in the European Union.

When it comes to the relationship between those who use the euro, and those who do not: here's the deal. You get a Eurozone that works better.

We get a guarantee that the Eurozone's decisions and costs are not imposed on us

You get a stronger Euro.

We make sure the voice of the pound is heard when it should be.

A deal that's written into the law

A deal that's good for Britain.

And a deal that's good for Germany too.
The Chancellor's Berlin meetings follow trips earlier this year to Paris, Stockholm, Helsinki and Copenhagen, where he held constructive talks with government and business representatives, and the Prime Minister's meeting with Chancellor Merkel in the UK last month.
Published 3 November 2015