News story
Chancellor extends Lloyds trading plan
Lloyds trading plan extended for a further six months.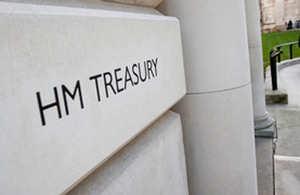 The Chancellor has today set out the next stage in the government's plan to return Lloyds Banking Group to private ownership and get taxpayers' money back, by extending the Lloyds trading plan for a further six months.
The trading plan has been a huge success so far, enabling the government to recover over £9 billion for the taxpayer, and reducing the government's remaining stake in Lloyds to around 9%. We will stop the plan before the launch of the government's retail sale of Lloyds shares.
Shares have been sold through the trading plan for an average price of over 81p, well above the average 73.6p originally paid for the shares. Shares will not be sold for less than the price paid for them, which was 73.6p. The trading plan will end no later than 30 June, but may be stopped earlier, for example to ensure the government holds sufficient shares for the retail offer.
The Chancellor George Osborne said:
The trading plan has been a huge success, with over £9 billion raised for the taxpayer so far. This means we have now recovered over £16 billion in total, and we now own 9.2% of the bank. I'm today extending the plan to build on this success and recover further money for the taxpayer.

As part of my plan to fully return Lloyds to the private sector, reduce public debt and build a stronger and safer financial system, Lloyds shares will also be offered to retail investors in spring 2016. This will allow hardworking people to buy a stake in our economy and help to build a share owning democracy.
All proceeds from share sales will be used to reduce the national debt.
On 5 October HM Treasury announced that a retail sale of Lloyds shares will be launched next spring. A dedicated campaign webpage for potential investors is available, where members of the public can pre-register and receive email updates about the sale. Morgan Stanley will continue to act as broker on behalf of HM Treasury to execute the trading plan.
Please see the announcement made by United Kingdom Financial Investments Limited for full details and important legal messages.
Published 4 December 2015