Press release
Chancellor announces overhaul of Northern Ireland flight tax
Chancellor announces overhaul of Northern Ireland flight tax.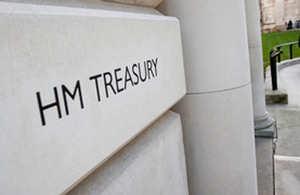 The Chancellor, in consultation with the Secretary of State Owen Paterson and the Northern Ireland Executive, today announces that from 1 November Air Passenger Duty will be cut for passengers travelling on direct long-haul routes departing from airports in Northern Ireland.
The direct long-haul rate of APD will fall to the lower short-haul rate - currently £12 per passenger in economy and £24 for business and first class passengers.
Continental Flight CO95 from Belfast International to New York/Newark will continue to operate, maintaining Northern Ireland's vital economic air link to North America, and Northern Ireland will gain a fresh opportunity to develop other long-haul routes to the rest of the world. 
Announcing the move, the Chancellor of the Exchequer said: 
The Government has taken proactive measures to protect the only direct long-haul service operating from Northern Ireland and with it the jobs of those who serve the Belfast route.
Northern Ireland faces a unique challenge in attracting traffic - including very valuable business customers - into its airports.
By announcing this immediate cut and our intention to devolve aspects of APD, the UK Government is renewing its commitment to stimulating and rebalancing the Northern Ireland economy.
Northern Ireland's airports operate in unique circumstances within the UK. The land border with the Republic of Ireland, with its differential rates of air passenger tax had threatened to make long-haul flights from Belfast uneconomic. 
To provide a lasting solution, the Government will launch a parallel process to devolve aspects of APD to the Northern Ireland Assembly, as a recognition of its unique circumstances. 
The precise scope of devolution will be agreed in cooperation with the Northern Ireland Executive.
Notes for Editors
Devolution to Northern Ireland will require primary legislation from Parliament, and the Government will begin consideration of this process shortly, working in close consultation with the Northern Ireland Executive.

The cut to APD for direct long-haul passengers will be effective from 1 November 2011, and will be formally announced to Parliament via Written Ministerial Statement as soon as possible after recess.

The cost of reducing APD in Northern Ireland will ultimately fall to the Northern Ireland Executive in accordance with the requirements of EU law in relation to devolved taxes.

In respect of the original APD consultation on reform, which closed on 17 June, the Government will publish a full response by the end of the autumn.

The Government will respond to the responses to the HMT consultation document on rebalancing the Northern Ireland economy in the autumn.
Non-media enquiries should be addressed to the Treasury Correspondence and Enquiry Unit on 020 7270 4558 or by e-mail to public.enquiries@hm-treasury.gov.uk
Media enquiries should be addressed to the Treasury Press Office on 020 7270 5238.
Published 27 September 2011