Chance to find out more about £7 million roundabout upgrade near Silverstone
The public can talk to Highways England direct next month all about an improvement scheme set to start in January for the A43 Abthorpe roundabout in Northamptonshire, which will improve capacity and journey times.
This news article was withdrawn on
This document is no longer current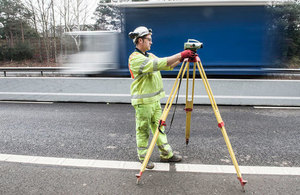 Highways England is carrying out the £7 million scheme to widen the roundabout junction: upgrading the layout, approaches, signals and crossing facilities.
The scheme will also give the roundabout the capacity it needs for the future: supporting thousands of new homes and jobs in the area and an expected increase in traffic volumes.
Members of the public can meet the project team at an engagement event on Saturday 7 November to discuss the improvements.
An image of how the new roundabout will look has been created.
Kevin Harvey, project manager for Highways England, said:
As part of record government funding, this scheme will help boost the local economy and support up to 4,650 new homes in the area.

This is about improving the roundabout for everyone concerned: as well as better, more reliable journeys for our road users, we'll also be making the junction safer and more accessible for pedestrians, cyclists and horse riders.
The scheme will be carried out in two phases to minimise disruption as much as possible. Phase one will take place between January and Summer 2016 with service providers undertaking advanced work and Highways England supervising.
Phase two, between Summer 2016 and Spring 2017, will see our appointed contractor carrying out the main work. This phase of work will be where we carry out the road widening, erection of retaining walls and installation of the signals equipment.
Due to the closeness of the roundabout to nearby homes, phase one is likely to be carried out during the daytime to avoid noise at night. Phase two will also be predominantly day working with narrow lanes working. Some night time working and closures will be required where necessary.
Highways England will announce further information about dates and traffic management nearer the commencement of the scheme. The scheme webpage will be regularly updated:
The engagement event is being held at Towcester Community Centre in Islington Road between 10am and 3pm.
Alternatively if you have any queries about the scheme please call the Highways England Customer Contact Line on 0300 123 5000 or email info@highwaysengland.co.uk.
The scheme is part of £1.8 billion investment in the midlands from the Roads Investment Strategy (RIS) which Highways England is delivering on behalf of the government.
General enquiries
Members of the public should contact the Highways England customer contact centre on 0300 123 5000.
Media enquiries
Journalists should contact the Highways England press office on 0844 693 1448 and use the menu to speak to the most appropriate press officer.
Published 14 October 2015