Challenge and opportunity' in the EU's southern neighbourhood
Minister for Europe David Lidington discussed the EU's Neighbourhood Policy today at an event hosted by the Centre for European Reform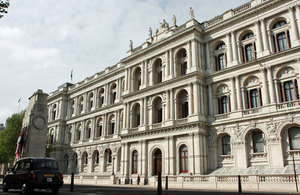 The discussion focused on the direction of the EU's relations with its nearest neighbours, particularly in the context of recent events in the Middle East.
David Lidington said that recent events in the EU's southern Neighbourhood presented Europe with "a challenge and an opportunity". He said that people of the EU and the southern neighbourhood were united by a yearning for dignity, justice and fundamental freedoms; and a desire for a better economic future for their families.
Commenting on the recent review of the European Neighbourhood Policy, Mr Lidington said that this delivered "an ambitious and far-reaching offer to the Neighbourhood", and welcomed its "vision for encouraging 'deep democracy' - the kind that lasts because the right to vote is accompanied by the right to exercise free speech, form competing political parties, and receive impartial justice from independent judges, security from accountable police and armed forces, and a competent and non-corrupt civil service."
The event was part of a series hosted by the Centre for European Reform, and follows the publication of their brief on EU neighbourhood policy.
Published 15 June 2011