Chairperson vacancy: civil service commissioners for Northern Ireland
Applications are invited for the post of chair of the civil service commissioners for Northern Ireland.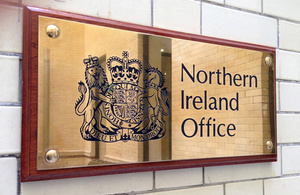 The Secretary of State for Northern Ireland invites applications for appointment of a Chair of the Civil Service Commissioners for Northern Ireland.
The post of Chair will be available from mid-2012, for a term of up to 5 years. Remuneration will be £16,000. The post of Chair carries with it a substantial range of responsibilities and will require a commitment of one day per week. In addition, as a Commissioner there will also be a requirement to chair 2-3 Senior Civil Service recruitment competitions annually averaging a minimum of 3-4 days in each competition. An additional fee of £300 per day will be paid for this particular role.
Those interested in applying for the post should download the information pack and application form from the vacancies section of the website. Further information can be obtained by telephoning 028 90765497 or by email to: CSCNI2012@nio.x.gsi.gov.uk
The closing date for applications is 5.00pm Friday 17 February 2012.
Published 26 January 2012