News story
Chair of the CFD Counterparty Company appointed
Dr Martin Read CBE appointed as Chair of the CFD Counterparty Company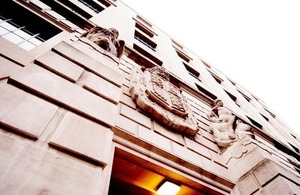 Dr Martin Read CBE has been appointed as Chair of the CFD Counterparty Company by Energy and Climate Change Secretary of State, Edward Davey.
The CFD Counterparty Company is a new Government-owned company being established as part of Government's Electricity Market Reform.
Dr Martin Read will be supported in this three year role by Jim Keohane, as the Senior Independent Director (SID). The two appointees will also take on the Chair and SID positions of the Electricity Settlements Company when it is established.
Electricity Market Reform is delivering ambitious reforms to bring forward unprecedented investment in electricity generation and encourage a diverse energy mix. The CFD Counterparty Company will be a key institution, managing long-term Contracts for Difference (CfDs) with electricity generators to incentivise investment in low-carbon generation. The company is expected to be operational from 1 August 2014 and it is expected that the first CfDs under the new regime will be allocated by the end of the year.
The Electricity Settlements Company will facilitate payments under Capacity Market agreements. The Capacity Market is designed to deliver sufficient investment in the overall level of reliable capacity needed to ensure secure electricity supplies. The first Capacity Market auction is expected to run by the end of 2014, for delivery of the necessary capacity by the winter of 2018/19.
The combination of the Chair and SID roles across the two companies reflects the fact that the companies will share a number of features and services, and should minimise their cost to industry.
Secretary of State Edward Davey said:
The new Contracts for Difference Counterparty Company is crucial to make sure we have the right conditions to attract funding for low-carbon generation, helping to reduce our emissions and give the best deal to bill-payers. It's never been more important to drive investment in home grown energy to increase our energy security and reduce our reliance on foreign imports.

Martin Read and Jim Keohane will provide expert leadership driving through the successful implementation of the Contracts for Difference (CfD) regime. Over the next year we can expect to see the CFD Counterparty Company working with industry to ensure suppliers' settlements are ready as well as signing and managing the first CfDs.
Dr Martin Read said:
I am pleased to take on this important role. As Chair of the CFD Counterparty Company, I look forward to using my private sector experience to contribute directly to this essential reform of the electricity market.

The CFD Counterparty Company is key to successfully establishing the CfD regime and delivering a secure, low-carbon electricity system.
Dr Martin Read has a strong track record in non-executive roles in major private sector companies and a range of other organisations. From his fourteen years as Chief Executive Officer of Logica (1993 to 2007), he also has extensive experience of managing large contracts and settlement systems, which will be invaluable in his new role.
Dr Martin Read is currently a non-executive director at Lloyds of London and the UK Government Efficiency and Reform Board, Chair of the Remuneration Consultants Group and Chair designate of Laird plc. He has previously served as a non-executive director on the Boards of Invensys plc, Aegis Group, British Airways, Siemens Holdings, Boots Group and Asda Group. He led UK Government reviews on back office operations and IT across the public sector (2009) and management information (2012).
Jim Keohane is also an experienced non-executive. He served an eight-year term as a non-executive director of the Civil Aviation Authority and was its Deputy Chairman from 2007 to 2008.
He has also been a non-executive member of the Gas and Electricity Market Authority since 2009. Jim Keohane has 30 years' experience in the energy industry, including serving as a director of East Midlands Electricity and, later, Eastern Group. From his experience in the electricity sector he will bring an excellent knowledge of the industry to the Senior Independent Director role.
Further information
Published 17 April 2014