Press release
Chair appointed to Medicines Technologies Catapult
Life sciences businessman and academic Professor Graham Boulnois has been appointed as chairman of the Medicines Technologies Catapult.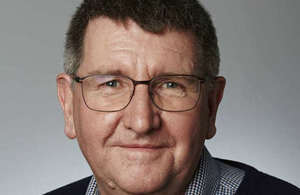 The Catapult was announced by the Chancellor of the Exchequer, George Osborne in July 2015. It will be located in the north-west of England at Alderley Park, recognising the strong reputation for science and innovation in the Northern Powerhouse.
Graham Boulnois is founder and managing director of B-V Life Sciences Ltd, a company offering consultancy support to healthcare companies. For 12 years he was a Partner at SV Life Sciences, and has been chair or non-exec director of numerous biotechnology companies. Previously, he held roles at Zeneca Pharmaceuticals, as Senior Vice President Discovery Research, and Leicester University.
The new Medicines Technologies Catapult at Alderley Park, Cheshire will support industry in developing new technologies primarily for the preclinical evaluation of medicines. The goal for the Catapult is to grow the UK's commercial preclinical capability with a view to improving productivity in drug development and approval, to make it the leading place worldwide to develop and launch new products and services in this space.
The new Catapult will maximise Alderley Park's world-class laboratory capability plus excellent links to the research organisations, universities and businesses. These established and renowned facilities will give the Catapult an excellent springboard when it starts its important work.
Universities and Science Minister Jo Johnson said:
The Government's investment in the Medicines Technologies Catapult is securing a bright future for medical innovation in the UK. Graham's impressive experience across industry and academia will be important as he leads this exciting project. Under his guidance, the Catapult will play a pivotal role in bringing new technologies to a global market that will benefit our health, create new jobs and cement the UK as the best place in Europe to innovate.
Innovate UK Chief Executive Ruth McKernan said:
Graham's long-standing experience and expertise in both business and academia will be invaluable to the development of the Medicines Technologies Catapult. He will provide excellent insight into how the new Catapult will engage with companies both large and small, and maximise the potential of the world-class facilities at Alderley Park.
Graham Boulnois said:
I am delighted to be joining the Medicines Technologies Catapult as its Chairman. With its outstanding, global reputation for medicines discovery, Alderley Park has the facilities and people to make the catapult a great success in the delivery of innovative technologies to enable the discovery of new, high quality medicines for the benefit of patients. I look forward to working with the Catapult team and our business and academic partners to build a vibrant organisation which will be recognised as the leading place to develop these new technologies. In doing this I believe we can contribute positively to the local and national economy.
Notes to editors
Published 18 January 2016