Chair and Deputy Chair appointed to the Geospatial Commission
Sir Andrew Dilnot has been appointed Chair of the government's new Geospatial Commission, and Nigel Clifford has been confirmed as Deputy Chair.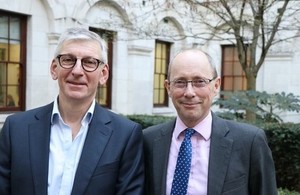 Sir Andrew Dilnot has been appointed Chair of the government's new Geospatial Commission today by the Chancellor of the Duchy of Lancaster, the Rt Hon David Lidington CBE MP. Nigel Clifford has also been confirmed as Deputy Chair.
They will be responsible for the work of the Geospatial Commission, supported by £80 million of new funding, to drive the use of location-linked data more productively, to unlock up to £11 billion of extra value for the economy every year.
The objectives of the commission are to increase economic growth and improve social and environmental outcomes by:
setting cross-cutting geospatial strategy, policy and data standards
promoting competition within markets for geospatial data, products and services
improving accessibility, interoperability and quality of data
improving capability, skills and resources, to support the growth of new and existing geospatial businesses, and improve public services
The Chancellor of the Duchy of Lancaster and Minister for the Cabinet Office, David Lidington, said:
I am pleased to have appointed Sir Andrew as the Chair of the Geospatial Commission. Andrew's experience throughout his career has centred on the application of data to help understand and improve the UK economy, society and environment. His passion for public service will help drive forward the UK's geospatial agenda.

As Deputy Chair, Nigel Clifford will bring extensive technical knowledge and private-sector experience. Together, Sir Andrew and Nigel bring the energy, enthusiasm and leadership required to unlock the massive potential of geospatial data and technology.
Sir Andrew Dilnot said:
The intelligent use of data presents a huge opportunity to enrich our society, strengthen our economy and tackle the issues of the future. The potential of new technology in the geospatial domain is huge, and questions about how best to facilitate use of the data are important and fascinating. Alongside Nigel, I look forward to addressing these questions through my new role as Chair of the Geospatial Commission.
Both will take up their respective roles from 1 January 2019 for a term of 3 years.
Background
About the Geospatial Commission
The Geospatial Commission is an impartial expert committee within the Cabinet Office, supported by £40 million of new funding in each of the next two years, and will drive the move to use public and private-sector geospatial data more productively.
Research estimates that this could contribute up to £11 billion of extra value for the economy every year. Further details on the Geospatial Commission can be found in this press release: Chancellor to unlock hidden value of government data
About Sir Andrew Dilnot
From 2012 to 2017, Sir Andrew was Chair of the UK Statistics Authority - the statutory body responsible for oversight of the Office for National Statistics and independent regulation of official statistics.
Andrew was elected as Warden of Nuffield College, Oxford, with effect from September 2012. Between 2002 and August 2012, Andrew was Principal of St. Hugh's College, Oxford. He was awarded a CBE in 2000 and knighted in the 2013 Queen's Birthday Honours for services to economics and economic policy.
Andrew was educated in Swansea and at St. John's College, Oxford, where he read politics, philosophy and economics. After graduating from Oxford, he joined the Institute for Fiscal Studies (IFS), and between 1991 and 2002 he served as its director.
Andrew was the founding presenter of BBC Radio 4's series on numbers and statistics, 'More or Less'. He also co-authored (with Michael Blastland) 'The Tiger that isn't: seeing through a world of numbers' - a study of the role and use of statistics.
In 2010, Andrew was appointed to chair The Commission on Funding of Care and Support, which published its report 'Fairer Care Funding' in July 2011.
He is an Honorary Fellow of the British Academy, of St. John's College, Oxford, of St. Hughes College, Oxford, of Queen Mary, University of London, and of the Institute for Actuaries. Andrew also holds honorary doctorates from City University and the Open University.
Between 2009 and 2012, Andrew chaired 'The Statistics User Forum' and was also a trustee of the Nuffield Foundation. He has served on the Social Security Advisory Committee, the National Consumer Council, and the council of the Royal Economic Society.
About Nigel Clifford
Nigel was appointed Deputy Chair of the Geospatial Commission on 6 December 2018.
Nigel was previously the Chief Executive of Ordnance Survey from 2015 to 2018, bringing extensive experience of international software, mobile telecoms and services, including complex joint-venture and public-sector enterprises.
He has previously been Chief Executive of Procserve Holdings Ltd, Micro Focus International, Symbian Software Ltd, Tertio Telecoms and Glasgow Royal Infirmary University NHS Trust. In addition, he has held senior roles within Cable & Wireless and BT Group Plc.
Nigel has a geography degree from Cambridge and is a Fellow of the Royal Geographical Society and the Royal Institution of Chartered Surveyors.
About the role of Chair
The Chair of the Geospatial Commission is responsible for:
strategic leadership of the commission
providing expert, impartial advice to the government on geospatial data, including advice on prioritisation and value for money
building broad cross-sector support and consensus around commission recommendations
effectively allocating commission budgets to target high-value opportunities
monitoring performance of public-sector bodies responsible for delivering the geospatial strategy
chairing commission meetings, working with the government to ensure the commission has the right balance of skills, and ensuring the commission conforms to the highest levels of propriety
directing other commissioners' input, harnessing their skills, experience and expertise
engaging with stakeholders, including government, industry, academia, interest groups and the public
representing the commission in public, including in the media and at industry events
Published 19 December 2018