World news story
Ceremony marks cherished painting's return to Canadian family
High Commissioner hosts handover ceremony to mark the Fillion Memorial's return to Canada.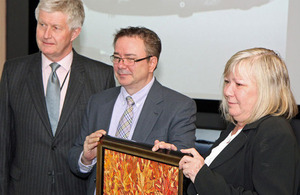 An emotional ceremony at the British High Commission in Ottawa on Tuesday (15 October) marked the end of a long journey home for a painting which honoured the life of a Canadian navigator who lost his life whilst serving with the Royal Air Force 45 years ago.
Commissioned in honour of Canadian Flight Lieutenant Denny Fillion, the painting was presented to RAF Kinloss in Scotland by Fillion's widow Laura after his death in 1968. Displaying a collage of maple leaves, the painting remained in the Officers Mess for many years, but without a plaque, its significance was lost over time.
Fortunately, the memorial was rediscovered by the heritage team overseeing the closure of RAF Kinloss in 2011 and the Royal Air Force agreed to return the painting to Fillion's family.
During the ceremony British High Commissioner Howard Drake said:
"This is more than just handing over a piece of beautiful Canadian artwork to Flight Lieutenant Denny Fillion's family but also an opportunity to reflect on the courageous sacrifice a young Canadian made in defence of his country whilst on exchange with the Royal Air Force over 40 years ago."
Thanks to the efforts of many volunteer caretakers, including members of the Royal Air Force, Royal Canadian Air Force and UK Trade and Investment, the work was sent for restoration at the RAF Museum before beginning the final leg of its journey to Canada.
Born on Ile d'Orleans, Quebec, Flight Lieutenant Denny Fillion was on exchange to the Royal Air Force in 1967 when he lost his life along with 8 other crew members when their RAF Shackleton crashed sout-west of Lands End.
Photos from the ceremony can be found on the British High Commission's Flickr page.
Published 21 October 2013