Press release
Central reservation work for M6 near Tebay
Drivers using the M6 around Tebay in Cumbria are being advised that work will be taking place next month to modify the central reservation to make future bridge repairs safer and easier.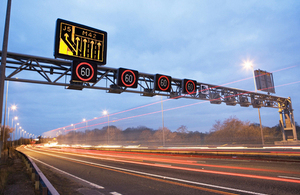 The £450,000 project is being delivered near Castle Howe bridge just north of junction 38 of the motorway and will take place between Saturday 13 September and Monday 13 October.
Highways Agency project sponsor Mark Mosley said:
This is important work to make future maintenance of the bridge easier and safer for our roadworkers but also less of an inconvenience to motorway users. There should be little if any inconvenience to drivers while we are modifying the central reservation but we do appreciate that customers like to know what work is going on.
The work will provide a gate in the central reservation to allow future bridge maintenance to be delivered with a contraflow system in place – allowing the motorway to remain open in both directions during maintenance and repairs.
The roadworks for the improvement will need a round-the-clock closure of lane 3 of the motorway in both directions and some overnight closures of lane 2 along the southbound carriageway.
General enquiries
Members of the public should contact the Highways Agency Information Line on 0300 123 5000.
Media enquiries
Journalists should contact the Highways Agency press office on 0844 693 1448 and use the menu to speak to the most appropriate press officer.
Published 21 August 2014