News story
Centenary of First World War on the agenda of Belgo-British Conference
The Belgo-British Conference took place on Thursday 10 and Friday 11 October 2013.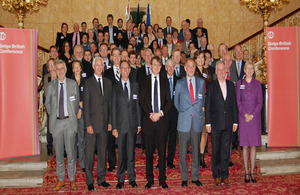 On Thursday Foreign Minister Didier Reynders and British Minister for Europe David Lidington opened the 14th Belgo-British Conference in London. This event, organised every year alternating between Belgium and the UK, aims to enrich bilateral relations in areas as varied as politics, economy, culture, media or academia.
The central theme of the 14th Conference, whose programme extends over two days, will be the Centenary of the First World War which will be commemorated next year. Mr. Reynders and Mr. Lidington both emphasised the need to remember and the importance of engaging younger generations. Mr. Lidington noted that his government was organising a major event on 4th August 2014 at the Saint-Symphorien military cemetery in Mons, and that future commemorations would create numerous opportunities for cooperation between the two countries, such as at the Belgo-British Conference.
British Minister for Europe David Lidington:
In almost all villages in the UK you can find a memorial paying tribute to those who fought in the First World War. The War and its consequences are anchored in our collective memory. The Belgo-British Conference must allow us to reflect together about how to involve young people, how to make them aware, how to inspire them so that we continue to remember and will still commemorate this War in 100 years from now.
On his side, Didier Reynders said he looked forward to seeing the British for the commemoration of the bicentenary of the Battle of Waterloo in 2015.
For more information on the work of the British Embassy to Belgium, follow us on Twitter and Facebook.
Published 14 October 2013