World news story
Celebrating World Toilet Day in the DRC
On 19 November, the UK and its partners celebrated World Toilet Day with the launch of the second phase of the programme Village et Ecole Assainis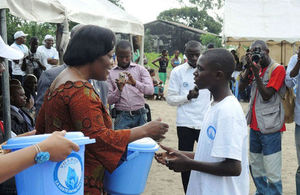 Meaning healthy villages and schools, "Village et Ecole Assainis" (VEA) is a national programme that aims to increase sustainable access to water, sanitation and hygiene (WASH) in rural and semi-urban villages and schools across all 11 provinces of the Democratic Republic of Congo (DRC).
The UK has been supporting VEA since 2008, and has recently announced new funding of £84.6m over the next six years, for the phase 2 as part of DFID DRC's new WASH investment plan in DRC. The programme has been able to deliver real results in a tough context – between 2008 and 2012 it delivered water to 1.72 million people, sanitation to 1.54 million and hygiene education to 1.4 million across DRC.
As a basic service, access to sanitation is a fundamental ingredient in development. Poor sanitation is a key contributing factor to under-nutrition. Many neglected tropical diseases are exacerbated by poor sanitation. Access to sanitation has implications for equity and marginalised groups. Anecdotal evidence suggests that inequitable access to sanitation leaves women vulnerable to rape. The global economic benefits of reaching universal access to sanitation are estimated at $220 million annually.
In spite of the numbers of people who have gained access to sanitation in recent years, this has only been sufficient to keep pace with population growth worldwide. Over 2.6 billion people – two out of every 5 people – still do not have access to improved sanitation (an improved sanitation facility is one that hygienically separates human excreta from human contact). In DRC, the numbers are worse with only 1 out of every 7 people accessing a hygienic latrine.
VEA is implemented by UNICEF, DRC Ministry of Health and DRC Ministry of Education. It is the largest programme in DRC systematically trying to increase access to sanitation, as well as attempting to change the attitudes and behaviours of individuals to ensure that this access and the benefits it brings for health, education, security, and prosperity, are sustained in the long-term. In addition, DFID DRC and UNICEF have introduced operational research to ensure Phase II of the EVA programme builds on the lessons learned from the first phase. The first villages will experience all of the Phase II changes, including the introduction of new quality control mechanisms which enable them to hold service providers to account, from June 2014.
Read the Head of DFID DRC's blog and see the Flickr photo set.
Published 22 November 2013