World news story
Celebrating UK-US relationship at 2013 Association of the United States Army
2013 Association of the United States Army Annual Meeting & Exposition brought together defence industry exhibitors, including a UK contingent.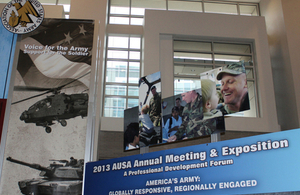 This week the 2013 Association of the United States Army (AUSA) Annual Meeting and Exposition brought together approximately 700 Army and defence industry exhibitors to downtown Washington, D.C., attracting over 30,000 attendees. Senior leaders from the Army, DoD and Congress, as well as foreign dignitaries shared 500,000 square feet of exhibition space with armoured vehicles, heavy artillery, a prototype support helicopter and a particularly impressive British contingent. The British Army and British defence industry turned out in force to celebrate their close relationship with the US Army and promote UK defence firms and technologies.
Shrinking national defence budgets have meant that co-operation between Armed Forces has become ever more critical to maintaining and developing the capabilities needed today, and in the future. AUSA provides an important opportunity for this co-operation to flourish - one which the British and US Armies took full advantage of, exchanging ideas with their American partners on a broad range of pressing issues such as, ongoing operations, future threats, capability development and defence transformation.
The mix of serving personnel and defence industry representatives reflected the great dependence of modern Armies on cutting edge technology. From communications to cyber, munitions to mobility, and surveillance to software, the ability of our Armed Forces to do their job and keep ahead of potential adversaries is reliant on a vibrant and innovative industrial base to provide the technology.
An example of technological development that has rapidly evolved through necessity is in the field of counter improvised explosive device (C-IED) technology. On this theme, the British Embassy hosted a seminar that drew US and UK experts to discuss the latest advancements in the field, but more importantly highlight their prevalence to future operations. Emphasising that the IED threat is here to stay, the British Army's Director General for Capability - Major General Nick Pope - spoke of the need for the US and UK to learn lessons from the Afghanistan C-IED experience, to apply the technology of today to the threats of tomorrow.
On the exhibit floor, ADS, the UK's national trade organisation for the defence industry, hosted several companies in the UK Pavilion where they demonstrated innovative defence technologies to better protect soldiers and civilians. For example, Pearson Engineering is developing a new class of Mine Ploughs to breach minefields while BCB International is developing pelvic protection undergarments that provide additional protection in an event of an IED detonation.
UK firms, like JCB (best known in the UK for their iconic agricultural machinery) and others who develop technologies like armoured mine rollers and insect-repellent camouflage creams, also employ 100,000 people here in the US in manufacturing this equipment - often for the US military. These partnerships are examples of the benefits defence trade brings for both nations, ultimately improving UK prosperity and US capability in the kind of win-win situation that is typical of the "special relationship". The Defence Trade Co-operation Treaty, signed last year by British Ambassador Sir Peter Westmacott, has been key to unlocking these benefits.
During the week, Ambassador Westmacott offered further support to UK industry and US capability by offering his residence to host a reception to mark UK participation at AUSA this year. EADS North America and Thales helped bring together leaders and innovators from across the field. As the Deputy Head of Mission Patrick Davies remarked at the reception, "both countries have developed top notch battle winning technology, so they can look to each other as not only potential customers, but as potential suppliers".
Published 25 October 2013