World news story
Celebrating the UK-India science and innovation relationship
UK-India research collaboration is growing exponentially from £1 million in 2008 to £400 million by 2021.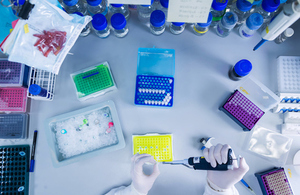 The recent UK-India policy dialogue was an opportunity to celebrate the rapid growth of the UK-India Science, Innovation and research relationship, which has grown from a joint investment of £1 million in 2008 to £400 million by 2021.
The high-level UK-India science policy dialogue was held in London on Monday, 23 April 2018. It was co-chaired by Professor John Loughhead, Chief Scientific Adviser, UK government's Department of Business Energy and Industrial Strategy and Professor Ashutosh Sharma, Secretary, Department of Science and Technology, Government of India.
The dialogue brought together officials from India and the UK to discuss the future direction of collaborative work, to continue to support India and the UK's joint goals and to follow up the joint announcements made during Prime Minister Modi's visit to the UK.
Professor John Loughhead said:
The India-UK research partnership has gone for strength to strength in recent years. Our biennial science and innovation policy dialogue is an excellent opportunity for us to ensure that our partnership continues to support research excellence in both countries.
The five-member delegation also included:
Dr Parvinder Maini, Ministry of Earth Science,
S K Varshney, Department of Science and Technology
Dr Shailja Gupta, Department of Biotechnology
Amit Sharma, Indian High Commission in London
The Indian delegation also visited Rutherford Appleton Laboratory to discuss Neutron Science as well as the Alan Turing Institute where they discussed Big Data Analytics, Internet of things, Artificial Intelligence and machine learning.
The policy dialogue is a precursor to the biennial Science and Innovation Council Meeting which is co-chaired by Science Ministers of both India and the UK.
Further information
UK – India Science and Innovation Council (SIC), chaired by Science Ministers from the two countries, is held once every two years 'to develop further a strategic science, technology and innovation bilateral relationship, and agree vehicles to enhance cooperation in areas of mutual interest'. The SIC was created in keeping with the bilateral strategic partnership envisaged in the India-UK Joint Declaration 'Towards the new and dynamic partnership' signed by Prime Ministers of both countries in London in 2004.
The UK India Science and Innovation Policy Dialogue usually precedes the SIC and the discussions at this dialogue informs the Chairs of the SIC on updates since the last SIC and New and Emerging areas for UK-India collaborations.
Media
For media queries, please contact:
Alex Cameron, Head of Communications
Press and Communications, British High Commission,
Chanakyapuri, New Delhi 110021
Tel: 24192100; Fax: 24192400,

Mail to: Ishan Bhatkoti
Follow us on Twitter, Facebook, Flickr, Eventbrite, Blogs,Youtube, Instagram, Snapchat @UKinIndia, Periscope @UKinIndia
Published 25 April 2018