World news story
Celebrating the achievements of Palestinian businesswomen
Dr Alastair McPhail meets leading Palestinian businesswomen to hear about their achievements and discuss UK support for women.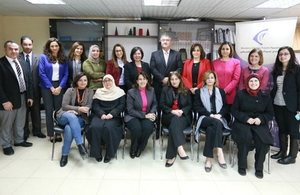 The British Consulate General celebrated International Women's Day yesterday. British Consul-General Dr Alastair McPhail met leading Palestinian businesswomen and professionals to hear about their achievements and discuss the British government's support for Palestinian women.
Dr. McPhail visited the Palestinian Businesswomen Forum in Ramallah, where he met Chairwoman Maha Abu Shousheh and leading Palestinian entrepreneurs. The Forum members described the main challenges they face, and the success they had achieved. Dr McPhail also visited Noura Heritage House, a business supported by the British Government through the Palestinian Market Development Programme. He met manager Noura Khalefe and some of the 80 women employed in the workshop.
Dr. McPhail also visited Rawabi City, where he met a number women working on the project and on site. He discussed with them the potential of Palestinian women and the importance of challenging stereotypes by entering the construction field.
Following his visits, Dr. McPhail said:
Palestinian women are making a remarkable contribution to the Palestinian economy. From construction to handicrafts, engineering to marketing, women are making their mark. I was very impressed with the success stories I heard today.
The British government is supporting Palestinian businesswomen and professionals. Through our Chevening Scholarship programme, we have provided opportunities to dozens of professional women to study in the UK. The UK's Department for International Development is supporting Palestinian businesses, including those employing women, through the Private Market Development Programme. And we have supported a number of women's organisations serving their local communities and providing employment opportunities to women. Through these initiatives, the UK is committed to supporting Palestinian women to develop their skills and contribute to the economy.
Published 4 March 2015