Celebrating the 1500th Inspire project
Hugh Robertson sees the programme in action with West Midlands Fire Service.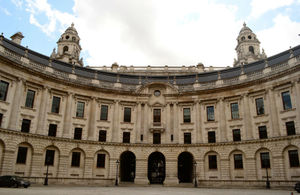 The West Midlands Fire Service (WMFS) was awarded the 1500th Inspire mark on Tuesday for two of its community based projects.
Marking the achievement, firefighters and young people from across the area competed against each other by pulling a fire engine.
The event was held as part of a year-long programme of activity which WMFS is hosting in a bid to encourage people from across the West Midlands to be inspired by the 2012 Olympics.
Presenting the award, Sport and Olympics Minister Hugh Robertson said he was "pleased to be in Birmingham to present this Inspire Award to the West Midlands Fire Service for its Fire Fighters Association Sports project and its One Body One Life project that are benefitting the lives of young people in the region."
Inspired by London 2012
The London 2012 Inspire programme enables non-commercial organisations across the UK to link their events and projects to the London 2012 Games in an official scope.
Further information
Watch a short film of the event
Interview with Hugh Roberston
Published 23 July 2012