World news story
Celebrating Her Britannic Majesty's 90th birthday in Bahrain
The British Embassy in Bahrain celebrated the 90th birthday of Her Majesty Queen Elizabeth II.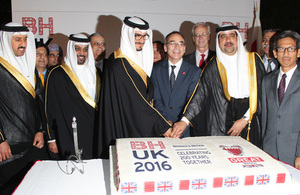 On 27th April, more than 500 guests joined the British Embassy in Bahrain in celebrating the 90th birthday of Her Majesty Queen Elizabeth II at a garden party hosted by Her Britannic Majesty's Ambassador to the Kingdom of Bahrain, Simon Martin CMG, and his wife Sophie. The British Embassy was proud to receive His Highness Sheikh Isa bin Salman Al Khalifa as Guest of Honour, representing His Majesty King Hamad bin Isa Al Khalifa.
The theme of this year's event was the 200 years anniversary of UK-Bahraini relations, launched in January by His Royal Highness the Crown Prince and the First Deputy Prime Minister, Salman bin Hamad Al Khalifa.
Ambassador Simon Martin commented:
2016 is unique year for The Kingdom of Bahrain and the United Kingdom, as we celebrate 200 years of friendship. We also mark Her Majesty the Queen's 90th birthday, in the year after She became our longest reigning monarch. I was delighted to welcome so many British and Bahraini guests and friends of our two countries, to my first Queen's Birthday Party here in Bahrain.
Ambassador Martin expressed his gratitude to BAE Systems, EuroMotors, and National Express, for their generous sponsorship of the event. He also thanked the Royal Marines Band and the students of St Christopher's School Bahrain.
Published 28 April 2016