World news story
Celebrating collaboration – five years of Research Councils UK India
This November, RCUK India will celebrate five years of strong partnership with India.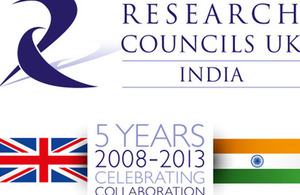 During these five years, the UK-India co-funded research has significantly grown from less than £1 million in 2008, to over £100 million today covering a wide spectrum of research challenges in the areas of energy, health, ICT, medicine, environmental and social sciences.
RCUK India has facilitated an impressive portfolio of over 80 high-quality, high-impact UK-India research projects involving over 90 industry partners.
Equal partnership is essential and through these research programmes, this collaboration continues to grow and enhance the future of research to benefit the society and enhance the prosperity of the UK, India and the world at large.
RCUK India works towards becoming India's partner of choice in research by developing a sustainable, strategic collaboration of high-quality research focussed on jointly agreed priorities.
RCUK India, along with the UK's Science and Innovation Network and the British High Commission, is hosting a series of events between 11 and 15 November to mark five successful years of collaboration with India.
The week begins with a plenary session on 12 November, where key policy makers from the UK and Indian funding agencies will talk about their priorities and plans for the future. The week will also include a series of roundtable discussions, a networking reception, bilateral meetings and a high-level policy dialogue. The topics for the roundtable discussions are based on India's 12th Five Year Plan and fitting with the UK research strength. These, therefore, will help pave the way for future collaboration between the UK and India.
The celebration will showcase the strengths of UK-India research partnership, especially those built over the last five years with RCUK India's pivotal role in facilitating these collaborations. It's an eventful week offering a great networking opportunity to senior stakeholders, policy makers and the research communities from both the UK and India.
For further information about any of these events or to register your interest in attending, please email.
Follow UK in India on Twitter, Facebook, Flickr, YouTube, LinkedIn, Storify, Eventbrite, Blogs, Foursqare
Published 7 November 2013