World news story
Celebrating 10 years of the UK-Japan Young Scientist Workshop Programme
This was published under the 2010 to 2015 Conservative and Liberal Democrat coalition government
Talented Japanese students visit Britain to gain international skills in science and engineering.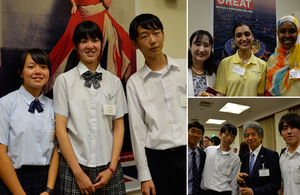 On 11 August, the British Embassy Tokyo hosted a special 10th anniversary celebration of the UK-Japan Young Scientist Workshop Programme, further to this year's workshops held in Cambridge and Tohoku to gain valuable new skills and build international relationships. The programme, sponsored by Rolls-Royce, Barclays and others aims to nurture both Japanese and UK students' interest in science, help them bolster their team spirit and heighten their awareness of the world through their working together on science and engineering projects.
The Clifton Scientific Trust established the programme in 2001, and since 2004 workshops have been held in both the UK and Japan, with 2014 marking its 10th year. Since the beginning of the programme, over 200 talented Japanese students have participated. Students aged 16 or over from schools in Japan and the UK form small project teams in a variety of areas in science and engineering. Each of the project teams will gain unique experience in cutting edge science, engineering, research or development, and will be given a related challenge to solve as a team. They will also be required to present their achievements to a panel of select guests.
Speaking at the event, British Ambassador Tim Hitchens said:
The British Embassy is delighted to be hosting today's event to celebrate ten years of remarkable achievements of the UK-Japan Young Scientist Workshop Programme. We believe the programme to be an extremely worthwhile initiative to strengthen the cooperation and cultural understanding between our two countries, and to spark young minds' interest in science and engineering.
The UK offers both world-class science and a world-class learning environment and together with our partners at the British Council, we are always seeking ways to encourage more Japanese students to experience all that modern Britain has to offer, fostering even stronger relations between the UK and Japan. We hope that this year's group of Young Scientists will not only go on to apply skills learned to their future careers, but also inspire the next generation of internationally-minded scientists.
Haruhiko Tsuyukubo, President – Japan, Rolls-Royce said:
Skills in Science, Technology, Engineering and Mathematics are highly valued by global companies like Rolls-Royce, where each day our 16,000 engineers around the world develop new solutions to deliver better power for a changing world. This is why we have have set a target to reach 6 million people globally through its STEM education programme and activities by 2020.
In celebrating our 50th year in Japan, Rolls-Royce is pleased to continue supporting Japanese young scientists, and we hope participants of this programme will play an active role in science and engineering in the future.
Related links
Read a news on the Rolls Royce website(Japanese only)
Document information
Published: 13 August 2014