News story
CCS shortlisted for Inclusive Procurement Award
CCS is among 3 finalists to be nominated for MSDUK's Inclusive Procurement Award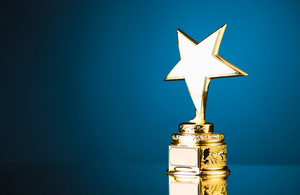 CCS has been shortlisted for the Inclusive Procurement Award from Minority Supplier Development United Kingdom (MSDUK), one of the UK's leading organisations for driving inclusive procurement.
The award recognises CCS's efforts in creating an inclusive supply chain and ensuring engagement with ethnic minority-led businesses and small businesses.
CCS was nominated for this prestigious award due to our pioneering work in opening up government opportunities to small businesses, charities and voluntary organisations.
This was achieved through implementing a range of measures to make becoming a government supplier more attractive, including:
introducing 30 day payment terms to ensure suppliers and subcontractors are paid promptly
removing the pre-qualification questionnaire in low value procurements to help save small companies time
ensuring that all supplier opportunities are advertised in one place, for greater efficiency.
Cass Chideock, Deputy Director Small Business, said:
It's a real pleasure to have the work CCS have done with small businesses acknowledged by MSDUK. In just 5 years the government's spend with small businesses has increased by £1.9 billion, and that's partly due to the initiatives CCS implemented. I'm proud that we have been able to help SMEs, charities and volunteer organisations get better access to government contracts.
The MSDUK 2016 awards will take place on 21-22 September at the Grange Tower Bridge Hotel, in Tower Hill, London. Tickets for the award dinner are still available and can be booked through the MSDUK website.
Published 1 July 2016