World news story
Cayman Islands Governor's Office project fund 2013-4: update
Funding granted to 10 local projects this year. Governor's Office confident that projects will make a real, positive impact in Cayman.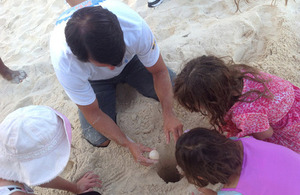 In response to the Governor's invitation, 25 projects bid this year for a share of the $64,000 CI (£50,000) allocated from the Overseas Territories Programme Fund from the United Kingdom's Foreign and Commonwealth Office. The projects chosen this year focus upon environmental issues and crime reduction and prevention, two of the priorities of the Governor's Office.
One of these environmental campaigns is the Department of Environment's (DoE) initiative to conduct research on Grand Cayman's green turtle population. This involves surveying nesting sites, tagging turtles and educating the public in order to gather data on and protect this cultural icon.
Funds will also allow new signs to be constructed for the Woodland Trail at the Queen Elizabeth II Botanic Park, which will indicate different plant species and sites of cultural importance.
Cayman Brac's critically endangered rock iguana population will benefit from 8 new enclosures. Here, injured and recuperating iguanas will receive much-needed care through the work of Ms. Bonnie Scott Edwards and the DoE.
The National Trust received a grant to support its annual Summer Camp Programme, which helps to educate children about Cayman's environmental and cultural heritage. Activities include visiting the historic Mission House in Bodden Town, learning about traditional catboats, and touring the Blue Iguana breeding facility in the Botanic Park.
The fund will also help local organisations tackle some of Cayman's pressing social issues. A grant will support the important services of the Cayman Islands Crisis Centre, and help increase community awareness about the dynamics and effects of domestic violence, sexual assault and child abuse.
The Cayman Islands Red Cross is being supported in its campaign against child abuse. This will involve educating people who work with youth on issues of child abuse and providing them with the resources to foster dialogue on the subject with others.
We also supported an initiative by the Royal Cayman Islands Police Service, which focused on gang culture. Experts came to Cayman earlier this year and ran a seminar for the police, educators, social services and others, in order to protect the youth of Cayman from the lure of gang culture.
The Youth Anti-Crime Trust (Youth ACT) has launched its Youth Crime Prevention Programme, which aims to reduce and prevent youth anti-social behaviour through education on the causes and consequences of criminal behavior. Our support funded their Crime Awareness Day in June at Clifton Hunter High School.
We also supported Save Our Youth's Family Fun Day in June. The aim of the day was to encourage young people to choose a healthy lifestyle and to educate them on the dangers of crime.
The Department of Counselling Services' 'Alternative to Violence' programme will again be supported by the Governor's Office fund. This year, an advanced workshop will achieve training certification for government participants, allowing them to deliver the Alternative to Violence programme. This focuses on the teaching and promotion of non-violent communication skills.
The Governor's Office is proud to support these worthwhile causes, and is confident that they will be of long-standing benefit to the Cayman Islands and its people.
Published 14 August 2013