World news story
Cartagena Dialogue meets in Guatemala for a constructive discussion on climate negotiations
The Cartagena Dialogue for Progressive Action, a collection of countries committed to identify a sustainable low-carbon development pathway, met in Guatemala from 4 to 7 October for an open discussion about climate change and to explore areas of convergence and how better to understand each other's views.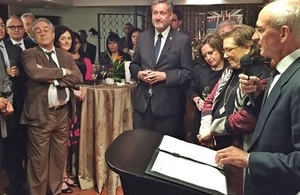 The Cartagena Dialogue has an informal membership that includes both developed and developing countries from different regions and negotiating blocks. Domestically, these countries are committed to transforming their economies away from fossil fuel or maintaining the sustainable low-carbon pathway they are on already. Internationally, they are committed to achieving an ambitious, comprehensive and legally binding climate change regime under the United Nations Framework Convention on Climate Change (UNFCCC).
The delegations, composed of nearly 50 representatives from more than 30 countries, were welcomed to Guatemala by the British Ambassador, Thomas Carter, in a Reception at his Residence. The Dialogue's inaugural event was co-hosted by high representatives of the Guatemalan Ministry of Environment and Ministry of Foreign Affairs.
Whilst in Guatemala, the Cartagena Dialogue countries brought to the table an opportunity for each country to outline their position and explore areas where joint action could emerge. Participants focused their efforts on building convergence around what an ambitious and achievable COP22 package of decisions was, and how they could better implement the commitments reached in Paris.
By having frank discussions outside the formal negotiating room, participating countries were able to explore areas of common interest in an environment which can be more conducive to such discussions than the high pressure climate negotiations. The meeting in Guatemala was made possible thanks to the financial support from the Government of Switzerland.
The United Kingdom is working with the Governments of the Cartagena Dialogue to submit the most ambitious Nationally Determined Contributions (NDCs) possible and monitoring that the domestic action needed to live up to them is being done. For the British Government this is a high priority and a real-world necessity if countries are to meet the long-term temperature targets agreed to in Paris and to build resilience to climate change.
The British delegation to the Cartagena Dialogue for Progressive Action meeting in Guatemala was composed by representatives of the UK's Department for Business, Energy and Industrial Strategy (BEIS): Archie Young, Head of International Negotiations, EU and Carbon Markets, and Head of UK Delegation in the UNFCCC; and Kaveh Guilanpour, Head of International Climate Change negotiations.
Published 5 October 2016