News story
Carmichael comments on UK economic news
International Monetary Fund projections for growth is good news for United Kingdom.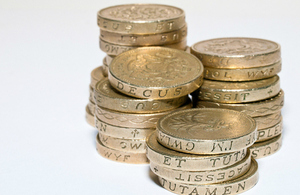 Responding to today's news that the International Monetary Fund (IMF) has increased its projection for UK growth in 2014 from 1.9% to 2.4% the Scottish Secretary Alistair Carmichael said
Today's figures from the IMF show the UK is one of the fastest growing major economies in the developed world. This is more positive news and is further evidence that this Government's long term economic plan is working.

During the deepest recession in peacetime history we've taken the difficult decisions needed so that we can build a stronger economy and a fairer society, providing a financially secure future for hardworking Scottish people and their families. All that would be put at risk if we abandoned our long-term economic plan.

With the UK's economic growth forecast to outstrip all of the Eurozone's major economies this year, Scotland's economy can be stronger and more successful as part of the UK with its security, scale and influence.
Published 21 January 2014