Careers in the EU: opportunities for UK graduates
Ministers and university representatives meet to discuss career opportunities for UK nationals in the EU institutions.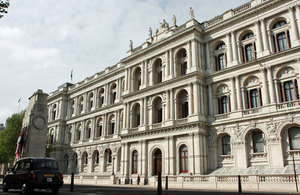 More than a hundred university officials, language teachers and careers advisors attended an event at the Foreign and Commonwealth Office on Monday 18 October, where they heard Foreign Secretary William Hague and Minister for Europe David Lidington outlining the British Government's commitment to increasing numbers of UK nationals working within the EU Institutions. The Foreign Secretary and Minister for Europe both spoke about the importance of adequate UK representation at EU level and underlined the opportunities of a career in the EU for UK graduates.
The head of the European Personnel Selection Office, EPSO, was also present at the event to answer questions from attendees, and existing British EU officials spoke about their experiences of EU careers.
During the event the Minister for Europe met with a number of British graduates who are currently undertaking the European Fast Stream. The European Fast Stream is a two year scheme which enables British graduates to work in the UK Civil Service, in EU related roles, and at the same time receive intensive coaching in French or German, in order to provide them with the best possible chance of passing the exams which lead to a permanent career as an EU Civil Servant. The scheme has recently been re-launched, and is currently accepting applications, with a deadline of 30 November 2010.
To help make the process of applying to the EU Institutions easier for UK nationals, the Foreign and Commonwealth Office has published a web resource outlining the opportunities for British graduates in the EU. Visitors to the resource will also find information on the application process, and links various social networks run by EPSO, where potential applicants can post questions and meet others who are also interested in careers in Europe.
Published 19 October 2010