News story
Cardiff visit for Lammy race review
A ground-breaking investigation into racial bias in the criminal justice system has visited a prison, court and probation services in Cardiff.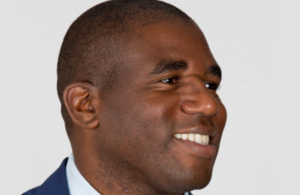 A ground-breaking investigation into race and ethnic bias in the criminal justice system has headed to Wales today to visit a prison, court and probation services.
David Lammy MP visited HMP Cardiff today (7 July 2016) to meet with governor Darren Hughes and speak with offenders during education classes and workshops.
The Tottenham MP, who is investigating the over-representation of black, Asian and minority ethnic (BAME) individuals in the criminal justice system, will also visit Cardiff Crown Court and the probation service later today.
David Lammy MP will also discuss the review with senior members of the Prison Service in Wales as well as HMP Cardiff's Independent Monitoring Board.
The review - which has cross-party support - will make recommendations to tackle potential bias or prejudice in the criminal justice system when it reports in spring 2017.
The Rt Hon David Lammy MP said:
I'm pleased to be visiting HMP Cardiff today as part of my review. It is vital that I investigate all parts of the justice system across the country to make sure I see the full picture of race in our courts and prisons.

The call for evidence for this review has generated more than 300 responses and my team are now carefully considering the findings. I will make recommendations to make sure all suspects and offenders are treated equally, regardless of ethnicity.
The review has allowed the Tottenham MP to look at all parts of the system, including the Crown Prosecution Service, the youth justice system, sentencing decisions, and custody and rehabilitation services.
HMP Cardiff governor Darren Hughes said:
I welcome David Lammy's visit to HMP Cardiff and the opportunity to contribute to this important review. Our recent assessment of the quality of life of prisoners at HMP Cardiff highlighted the many improvements we have made in the last few years, with BAME men reporting a positive experience at our prison.
David Lammy and his team have also visited HMP Grendon, HMP Feltham, HMP Brixton and HMP Pentonville to discuss a wide range of topics, including the impact of a prisoner's cultural background on rehabilitation and the legal advice given to BAME offenders.
The review has also featured roundtable events and interviews with key individuals from across England, Wales and the USA, which David Lammy visited to investigate the high number of BAME individuals in their justice system.
Issues raised in the UK include the effect of public perception of gang culture on young men in the justice system, while in the United States David Lammy investigated alternative approaches to custody, such as problem-solving courts.
BAME individuals make up over a quarter of prisoners in England and Wales in 2016 - compared with 13% of the wider population. Latest figures show that BAME individuals make up a disproportionate number of Crown Court defendants (23%), and those found guilty are more likely to receive custodial sentences than white offenders (61% compared with 55%).
Published 7 July 2016