News story
Capital markets in the spotlight in fight against climate change
The vital role of capital markets in tackling climate change has been ignored for too long, Climate Change Minister Greg Barker will say today…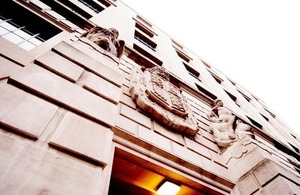 The vital role of capital markets in tackling climate change has been ignored for too long, Climate Change Minister Greg Barker will say today as he launches the Capital Markets Climate Initiative (CMCI) at the London Stock Exchange.
Opening the conference with Boris Johnson, Mayor of London, Greg Barker will highlight the City of London's potential to become a global hub for green finance and why low carbon investment is a huge opportunity for the UK's financial services industry.
DECC is bringing together key players from the City with international financiers and policy makers, with the initiative aimed at driving green economic investment in emerging economies and identifying how the current barriers to new investment can be dismantled.
The CMCI aims to help unlock the private sector's ability to help meet the $100 billion of new green investment required annually by 2020 to tackle climate change in developing countries.
Greg Barker said:
"The vital role of capital markets in tackling climate change has been overlooked for far too long. The finance needed to help developing countries become low carbon isn't flowing at the rate and scale needed.
"However, this is a huge opportunity for the UK financial services industry to grab a share of a completely new international market that will be worth billions in the years to come.
"I have convened today's meeting to bring together our key players from the City and internationally to help drive green economic investment.
"We want the City of London, with its unique expertise in innovative financial products, to lead the world and become the global hub for green growth finance. We need to put the sub-prime disaster behind us and focus back on investment in genuine wealth creation and in ways that don't damage the environment".
Mayor of London, Boris Johnson, said:
"As the powerhouse of the UK's economy, it is vital that London remains at the forefront of low carbon advancement. That's why City Hall has teamed up with others to set up the £100m London Green Fund to provide investment for climate change programmes and to prove their commercial viability. I want to ensure London's competitiveness as a leading global city and the Capital Markets Climate Initiative is a great opportunity to help us do that."
Economic Secretary to the Treasury, Justine Greening, said:
"Private finance is vital to tackling climate change and today's discussions will help ensure that the Government has a full understanding of what can be done to foster this. We need to make sure that we get the policy framework right in order to unlock large-scale private investment for clean technologies both here in the UK and internationally."
Xavier Rolet, Chief Executive Officer, London Stock Exchange Group, said:
"We are delighted to be hosting the launch of the CMCI. The London Stock Exchange is already home to over 100 clean tech firms, with our market's deep pool of equity capital powering the development of low carbon companies from around the world.
"But we want to do more, and by working together, building on the UK's leadership in green technology and harnessing the global expertise gathered here today, we can help build a vibrant business environment for the low carbon age."
---
Notes for editors
The International Energy Agency estimates that the total investment required by 2030 to reduce emissions by 50% by 2050 is around $1 trillion per year. Between 2005 and 2009 investment in clean energy grew by 230%, with $162 billion invested globally last year.
The UK has a leading position on clean energy investment. Amongst the G20, the UK was the fourth country in terms of five-year growth (2005-2009) in clean energy investment with around $11.2bn being invested in 2009 alone, according to Pew Center findings.
The London Green Fund is made up of contributions of £50 million from the London European Regional Development Fund Programme, £32 million from the LDA and £18 million from the London Waste and Recycling Board.
Published 7 September 2010