Press release
Capita to deliver interim tagging contracts
Justice Secretary Chris Grayling has announced that Capita will take over delivery of electronic monitoring on an interim basis by April 2014, bringing the next generation of tagging a step closer.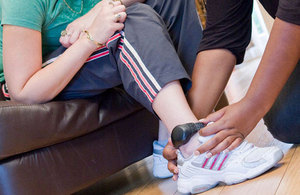 The Government is currently at preferred bidder stage in the competition to introduce state-of-the-art satellite tagging, allowing us to track dangerous and prolific criminals and offering greater protection to the public.
Discussions with preferred bidders are continuing with contracts expected to be awarded in the new year and GPS tagging introduced later in 2014.
While the competition progresses the interim agreement with Capita will see them take on responsibility for delivery of the current electronic monitoring service.
Chris Grayling said:
"This signals a fresh start for electronic monitoring that brings us a step closer to introducing the most advanced tagging system in the world.
"Monitoring the movements of dangerous and repeat offenders will be vital in cutting crime, creating a safer society with fewer victims and offering greater protection and reassurance to the public."
Under the interim contracts the Ministry of Justice will have far greater oversight over costs and charging than previously, with direct access to the supplier's systems to increase transparency.
Once in place the new GPS tags will mean that anyone suspected of committing an offence can be identified as having been at the scene of a crime or quickly eliminated from enquiries. This will deliver swifter justice and save valuable police time and money.
Notes to editors:
Under the interim arrangements Capita will manage delivery of the electronic monitoring service using systems and equipment supplied by G4S and Serco.
Preferred bidders in the ongoing competition for the next generation electronic monitoring contracts are Capita, Buddi, Astrium and Telefonica.
The preferred bidder status of the companies listed above means that these are now the only suppliers with whom MoJ is in talks to arrange the contracts. Once the preferred bidder stage has concluded, we will receive best and final offers and then award contracts.
We expect the contracts to be awarded in the new year and there will then follow a period of transition and mobilisation before the new service goes live.
For more information please contact the Ministry of Justice press office on 020 3334 3536.
Published 12 December 2013