Capita appointed to administer Teachers' Pension Scheme
Department for Education confirms that Capita Business Services Ltd is the preferred supplier to administer the Teachers' Pension Scheme.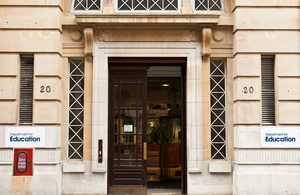 The Department for Education has confirmed today that Capita Business Services Ltd has been selected as the preferred supplier to administer the Teachers' Pension Scheme (TPS) from October 2011.
The TPS is the second largest pension scheme in the country with 1.6 million members and has been administered by Capita since 1996. The new contract, worth £80 million, is for a period of seven years, with an option to extend by up to three further years.
The contract was awarded after a fair and open competition, using the competitive dialogue procurement route, with other strong contenders involved throughout.
Companies interested in administering the scheme had to demonstrate their ability to deliver a high quality, flexible, innovative and value for money administration service. The service requirement also supports the Coalition Government's commitment to encourage saving for retirement and the implementation of changes to the TPS that might result from recommendations by Lord Hutton's Independent Public Sector Pension Commission.
Capita has offered a solution which will see the effective delivery of the services, with continuous improvement and innovation throughout the life of the contract to reflect the challenges associated with the pension environment. The Department will work with Capita to build on their achievements to date in delivering the requirements of this new contract.
Further information
The first administration outsourcing contract for seven years was awarded to Capita 1996 following a competitive procurement. In 2003 Capita Hartshead were re-appointed following another procurement competition. This contract was for seven years, with the option to extend by up to three year. In 2008, following the undertaking of an options exercise, the Department extended the contract by one year, to 30 September 2011.

The Department placed a notice in the European Journal on 18 September 2009 inviting expressions of interest in the contract to administer the Teachers' Pension Scheme.

The appointment of Capita has been approved by a Project Board and the Department for Education's Permanent Secretary, with Ministers being informed.
DfE enquiries
Central newsdesk - for journalists 020 7783 8300
General enquiries - for members of the public 0370 000 2288
Published 16 February 2011