Press release
Candidate for the chair of the Natural Environment Research Council announced
The government's preferred candidate to be Chair of the Natural Environment Research Council has been selected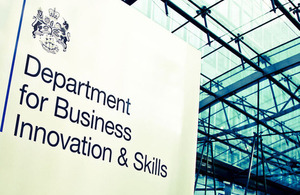 Sir Anthony Cleaver has been selected as the government's preferred candidate to be Chair of the Natural Environment Research Council (NERC).
Sir Anthony is a former chair of the Medical Research Council and is currently president of the Caithness & North Sutherland Regeneration Partnership.
The current chairman Ed Wallis steps down at the end of December.
The House of Commons Science and Technology Select Committee will hold a pre-appointment hearing on 21 October 2013 and will report on Sir Anthony Cleaver's suitability for this post.
Notes to editors
NERC is the UK's main agency for funding and managing world-class research, training and knowledge exchange in the environmental sciences. It coordinates some of the world's most exciting research projects, tackling major issues such as climate change, food security, environmental influences on human health, the genetic make-up of life on earth, and much more. NERC receives around £300 million a year from the government's science budget, which it uses to fund research and training in universities and its own research centres.

Pre-appointment scrutiny hearings enable Select Committees to take evidence from candidates for certain key public appointments before they are appointed. Hearings are in public and involve the Select Committee publishing a report setting out their views on the candidate's suitability for a post. Pre-appointment hearings are non-binding but Ministers will consider the Committee's views before deciding whether to proceed with the appointment.

The Chairs of the all of the Research Councils are listed as posts suitable for pre-appointment hearings. That list was published in the government's response to the Liaison Committee's First Special Report of Session 2007-08 (Liaison Committee, First Special Report of Session 2007-08, Pre-appointment hearings by Select Committees: Government Response, HC 594).
Published 16 October 2013