News story
Candidate for Technology Strategy Board Chair post announced
The present Chair, Graham Spittle, steps down at the end of November having served as Chair of both the advisory and executive Technology Strategy…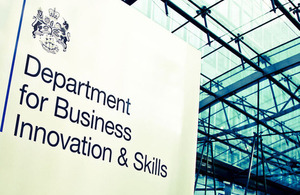 The present Chair, Graham Spittle, steps down at the end of November having served as Chair of both the advisory and executive Technology Strategy Board.
The House of Commons Science and Technology Select Committee will hold a pre-appointment hearing on the 24th of October and report on Phil Smith's suitability for this post. This in line with proposals to increase democratic scrutiny of key public appointments.
Notes to editors
The Technology Strategy Board is an executive Non Departmental Public Body sponsored by the Department for Business Innovation and Skills. It is a business-led non departmental public body that plays a cross-Government leadership role in delivering a national technology strategy and advising on polices which relate to technology innovation and knowledge transfer. It is the prime channel for delivering Government support for business-led technology innovation and operates across all important sectors of the UK economy to stimulate innovation in those areas which offer the greatest scope for boosting UK growth and productivity. For further information: http://www.innovateuk.org

The government's proposals for pre-appointment hearings are set out in the Governance of Britain White Paper.

Pre-appointments scrutiny hearings enable select committees to take evidence from candidates for certain key public appointments before they are appointed. Hearings are in public and involve the select committee publishing a report setting out their views on the candidate's suitability for a post. Pre-appointment hearings are non-binding but ministers will consider the committee's views before deciding whether to proceed with the appointment.

The Governance of Britain White Paper states that pre-appointment hearings should be held for posts that exercise statutory or other powers in relation to protecting the public's rights and interests - as well as for posts that play a role in the regulation and administration of the appointments process itself. The list of posts suitable for pre-appointment hearings is published in the Government's Response to the Liaison Committee's First Special Report of Session 2007-08 (Liaison Committee, First Special Report of Session 2007-08, Pre-appointment hearings by select committees: Government Response, HC 594). The Cabinet Office is currently undertaking a review of the list and the post of Chair of the Governing Board of the Technology Strategy Board will be added as part of the review.

BIS's online newsroom contains the latest press notices, speeches, as well as video and images for download. It also features an up to date list of BIS press office contacts. See http://www.bis.gov.uk/newsroom for more information.
Notes to Editors
Contact Information
Name BIS Press Office Job Title
Division COI Phone
Fax
Mobile
Email NDS.BIS@coi.gsi.gov.uk
Published 14 September 2011