News story
Candidate for Chair of the Engineering and Physical Sciences Research Council announced
The current Chairman Sir John Armitt CBE steps down at the end of March. The House of Commons Science and Technology Select Committee will…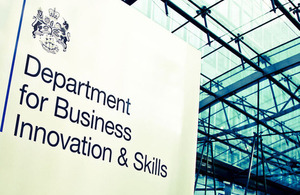 The current Chairman Sir John Armitt CBE steps down at the end of March.
The House of Commons Science and Technology Select Committee will hold a pre-appointment hearing on 7 March and report on Dr Golby's suitability for this post.
Notes to editors
The Engineering and Physical Sciences Research Council (EPSRC) is one of the seven UK Research Councils principally funded through the Government's science budget which is administered by the Department for Business, Innovation and Skills (BIS). EPSRC funds research and training in universities and research units and its grant in aid for 2011-12 is over £800 million. For further information see: www.epsrc.ac.uk

Pre-appointment scrutiny hearings enable Select Committees to take evidence from candidates for certain key public appointments before they are appointed. Hearings are in public and involve the Select Committee publishing a report setting out their views on the candidate's suitability for a post. Pre-appointment hearings are non-binding but Ministers will consider the Committee's views before deciding whether to proceed with the appointment.

The Chairs of the all of the Research Councils are listed as posts suitable for pre-appointment hearings. That list was published in the Government's Response to the Liaison Committee's First Special Report of Session 2007-08 (Liaison Committee, First Special Report of Session 2007-08, Pre-appointment hearings by Select Committees: Government Response, HC 594).

BIS's online newsroom contains the latest press notices, speeches, as well as video and images for download. It also features an up to date list of BIS press office contacts. See http://www.bis.gov.uk/newsroom for more information.
Notes to Editors
Contact Information
Name BIS Press Office Job Title
Division COI Phone
Fax
Mobile
Email NDS.BIS@coi.gsi.gov.uk
Name Sally Catmull Job Title
Division Department for Business, Innovation and Skills Phone 020 7215 6577 Fax
Mobile
Published 24 February 2012