Cancun breakthrough puts climate deal back on track
The Rt Hon Chris Huhne MP today welcomed the agreement made at the international climate change summit in Cancun, describing the deal as a turning…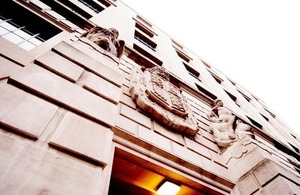 The Rt Hon Chris Huhne MP today welcomed the agreement made at the international climate change summit in Cancun, describing the deal as a turning point in the negotiations.
Energy and Climate Change Secretary The Rt Hon Chris Huhne MP said:
"A global climate deal is in the UK's national interest and Cancun shows other countries also want to get on with getting an international deal.
"We've worked hard to bring countries together and the expectations have been exceeded.
"A global deal on climate change is now back on track.
"We've now got to use this momentum to make urgent progress and lock down that deal - a deal that will benefit our environment and our economies."
Climate Change Minister Greg Barker added:
"Cancun will send a strong signal of confidence to business investing billions in the new global green economy. British companies are poised to reap the huge advantage of being the first movers in this rapidly expanding market. We will be working in partnership with the private sector to drive home that opportunity."
Key highlights of the agreement include:
Objective: agreed to peak emissions and an overall 2 degree target to limit temperature rise.
Emissions: bringing details of what developed and developing countries are doing to tackle climate change, promised in Copenhagen, into the UN system so they can be assessed.
MRV: agreed a system so we know how countries are living up to their promises to take action on emissions
Long-term finance: established the Green Climate Fund and will start to get it ready to help developing countries go low carbon and adapt to climate impacts.
Deforestation: agreed to slow, halt and reverse destruction of trees and agree the rules for delivering it and for monitoring progress.
Technology/Adaptation: set up the mechanisms to help developing countries access low carbon technology, and adapt to climate change.
The UK's Coalition Government is already taking strong action at home to tackle climate change and put in place the foundations of a low carbon economy.
The Government is creating a Green Investment Bank, has just published the Energy Bill to bring about a transformation in energy efficiency, and will soon be publishing a consultation on Electricity Market Reform, designed to set out the framework for investment in low carbon electricity.
Notes for editors
Full details of the agreement can be found on the UNFCCC website
---
Other comments
**The Prime Minister **hailed the agreement saying:
"The Cancun agreement is a very significant step forward in renewing the determination of the international community to tackle climate change through multilateral action.
"This morning I spoke to The Rt Hon Chris Huhne MP to congratulate him and the entire UK team on the successful conclusion of these negotiations.
"I also pay tribute to President Calderon of Mexico for the tremendous skill he has shown in bridging the gaps and producing a consensus outcome.
"Now the world must deliver on its promises. There is more hard work to be done ahead of the climate change conference in South Africa next year.
"I am clear that Britain will meet its international obligations. This will be the greenest ever British Government. And I will continue to make the case for a global, comprehensive and legally-binding climate agreement"
Neil Bentley, Confederation of Business Industry Director of Business Environment, said:
"Cancun is a step forward but there is still a long way to go. Businesses are committed to tackling climate change, but there is only so much they can do without a comprehensive global agreement on emissions reduction.
"Such a deal could unlock great new low-carbon markets for our economy, and until this is reached, concerted action will be slow.
"We must use progress at Cancun as a starter's pistol for getting a legally binding deal next year that will cut emissions and help drive green growth."
Alex Farrow, Co-director of the UK Youth Climate Coalition, said:
"Today's progress gives young people across the world hope. This is the beginning of a common climate path. These outcomes put us one step closer to the cleaner, fairer future that young people across the world dream of.
"UK youth made hundreds of phone calls and generated thousands of tweets to persuade The Rt Hon Chris Huhne MP to stay in Cancun for the climate talks. Our hard work paid off, as Huhne stayed to continue his key role in bringing parties together."
Cafod's head of policy Gwen Barry said:
"Cancun has shown people whose lives depend on these negotiations that the world is serious about preventing devastating climate change. The gains made here in Mexico lay the foundations for action towards a legally binding agreement that could safeguard the future for our children and grandchildren.
"It is a credit to the Mexican presidency of the COP that they created the political space for meaningful negotiation. After the damaging adversarial tone of Copenhagen and Tianjin they have offered us glimpses of a political dynamic that could successfully tackle climate change. The collective spirit of multi-lateralism that filled the last hours of Cancun engendered a level of compromise that saw even recalcitrant nations find room for flexibility.
Keith Allott, head of climate change at WWF-UK, **said: **
"After Copenhagen it was hoped that Cancun could establish a platform for progressing action on climate change.
"Despite some last minute hiccups, countries leave here with a renewed sense of goodwill and some sense of purpose," he said.
But he said a lot of work had to be done to make sure the agreements achieved in Cancun were built on next year.
"The UK and EU must not squander this chance - they need to champion much more ambitious action to cut emissions and close the 'gigatonne gap," he urged
And he said: "Governments backed a new global "green fund". The UK needs to drive this forward by backing new sources of finance, such as levies on international aviation and shipping."
Published 11 December 2010