World news story
Canadian fintech companies pursue future in the UK
12 Canadian companies travel to the UK to grow their international presence from London's global financial hub.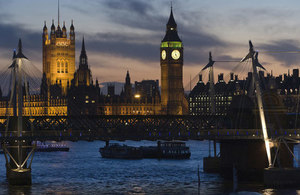 The Department for International Trade (DIT) is leading a mission of 11 prominent Canadian fintech companies, accompanied by CIBC bank, to the UK from 4 to 8 December for a 5 day trade mission.
The mission will support companies' growth plans for the UK, introduce them to the world's leading financial centre and provide valuable insight into the market from industry experts and mentors.
The mission, which is supported by British Airways, will give organisations the opportunity to network with leading fintech peers during the Fintech Connect Live conference and the European Digital Banking Summit in London.
The 12 companies, from British Columbia and Ontario include: CIBC, Control, Grow Financial, Horizn, Kooltra, Lendified, OutsideIQ, Q4 Inc, RentMoola, Sensibill, Veriday, and Zafin.
Trade Minister Mark Garnier said:
As a world leader in financial services, technology and research, the UK is embracing and leading the way in new Fintech developments. I look forward to welcoming these 12 innovative Canadian companies to the UK, to share ideas in this fast-changing industry and highlight that the UK remains open for business.

Canadian investment in the UK has doubled in the past decade to $86 billion (CAD), and Fintech is a prime example of where collaborative working and sharing knowledge and expertise can foster further opportunity.
Director General of DIT Canada and British Consul General in Toronto Kevin McGurgan said:
The quality of participants on this mission affirms the deep ties between the UK and Canadian markets. This emphasises the continued importance of London as a global financial hub and the number one place in the world for Fintech companies to grow their business.
Christmas comes early to the UK as 3 of the companies participating in the mission have announced they are setting up or expanding their operations in the UK.
Dan Adamson, CEO, OutsideIQ said:
We are actively expanding our presence in London to better service a growing international customer base. The DIT - BA Fintech Mission provides a great opportunity to participate in a thriving ecosystem of companies, innovators and technologies, particularly in the Regtech sector. We are very proud to be among the innovative Canadian companies that were selected.
OutsideIQ develops investigative cognitive computing solutions, including DDIQ, to address today's growing compliance requirements.
Darrell Heaps, CEO, Q4 Inc said:
The London Stock Exchange is home to thousands of listed companies, making London the perfect base for expanding our international footprint and European client base. I'm excited to announce that we'll be opening our second European office in London in January, and we expect to scale the UK team to 20+ people by the end of 2017.
Q4 is the fastest growing cloud-based capital market solutions provider to the IR Industry with over 1,200 clients. Public companies around the world use Q4's communications and intelligence solutions to power successful IR programs, understand complex markets and better connect with investors.
Nancy Langer, President and COO, Zafin said:
Zafin's mission to simplify banking while enabling digital innovation, revenue enhancements and conduct risk management continues to yield results, with exceptional momentum in the European market. We are bullish about the UK market and are making the appropriate investments to use it as a base for expanding our business in the UK itself, as well as Europe.
Zafin, a leading financial technology company serving financial institutions of all sizes, is proud to be a part of the DIT-BA Fintech mission. With its focus on digital innovation as well as its historical significance as a financial and policy-setting hub, the UK provides a great onshore investment location for Zafin's growth and expansion efforts.
About the Department for International Trade
The UK's Department for International Trade has overall responsibility for promoting UK trade across the world and attracting foreign investment to our economy. We are a specialised government body with responsibility for negotiating international trade policy, supporting business, as well as delivering an outward-looking trade diplomacy strategy.
About British Airways
British Airways, part of International Airlines Group, is one of the world's leading global premium airlines and the largest international carrier in the UK. British Airways has a strong presence in Canada, operating daily flights between London and Vancouver, Calgary, Montreal and twice-daily flights between London and Toronto. On Business is a Global Loyalty Program that is free to join, and allows businesses to collect points to spend across our global network with American Airlines, British Airways and Iberia.
Further information
Published 30 November 2016